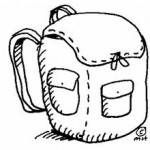 Project Backpack is sponsored by Helpline House on Bainbridge Island. Each year they furnish school supplies to between 150-225 school children in the area.  Last year, in 2009, they provided supplies for 193 students.  Below is a list of the most needed items.  Pick up a couple extra items while you are out shopping for your own kids  – and drop them off at Helpline House by Friday the 20th.
List of School Supplies Needed Most:
Sturdy Backpacks, especially larger sized
3 ring binders, various sizes
College ruled notebooks and paper
Notebook dividers
Graph paper, 3 hole punched
Colored pencils
Colored markers, both broad and fine point
Glue sticks
Highlighters
Pencil sharpeners
Sturdy pencil pouches that fit into binders
Sharp pointed school scissors
Boxes of "Kleenex" tissues, Baby wipes
Gift cards for Wal-Mart or Target (for additional supplies and clothing)
Note: they have sufficient supplies of crayons, blunt tipped scissors and bottled glue from past year's program.
Donations may also be dropped off at Island Fitness, Bainbridge Athletic Club, Paper Products, Viking Bank, Curves, Ace Hardware, Eagle Harbor Books, Sound Reprographics or Silver Screen Video. 
Helpline House offers an umbrella of social services and invites the community to become part of the circle of giving and receiving help.
Founded in the 1960s as a food bank in response to the "war on poverty", this community-funded non-profit agency provides a full range of services: food bank, clothing bank, medical equipment for loan, social work advocacy and consultation and referrals to counseling.
Basic services are provided cost-free to those in need. Needs are defined broadly, and are not always financial.
Any community member in crisis or in need of social work consultation, volunteer opportunities or other service is welcome at Helpline House.
The coffee pot is always on.
Helpline is conveniently located in Winslow on Knechtel Way which is halfway between Winslow Way and High School Road. You can access Knechtel either from Erickson Avenue or Madison Avenue and will see our sign on the street as you drive down Knechtel Way.
Information above about Helpline House courtesy of the Helpline House Website.
Helpline House is an amazing resource on Bainbridge Island.  The supportive community we live in is a benefit to all who call Bainbridge Island home.  Helpline House is one of the three charities I support on Bainbridge Island after each real estate transaction I close.