In my real estate world 2022 started off a lot like 2021, but when summer rolled around, the crazy market we were simultaneously starting to get used to and tired of, finally started to shift. The market we knew could NOT last forever, finally SLOWED DOWN. You will recognize some of that in the details of each home on my list. Some had a few days on the market and some had a few weeks. Interesting to note, because I consider all of these to be quality homes. I underscore that these are homes that caught my attention. I make no claim that these are the best homes on the island, but rather they are homes that I had fun swooning over. And I like what I like. I am drawn to homes that can not be easily replicated and sometimes those can be a bit quirky. And if you know me or have read my previous Top 10 lists I seem to also like a cedar-shingled home. Are there any on this list? Probably. But a new theme might be emerging. Scroll on to find out.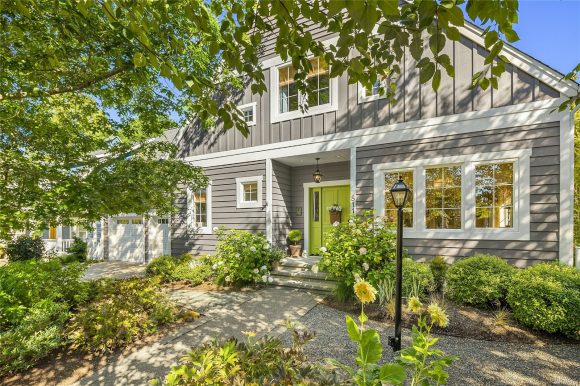 #10
Original List Price: $1,475,000
Sales Price: $1,475,000
Days on Market: 10
Date Sold: 11/20/2022
Click here for more photos and the full listing
For #10 we start in town in the popular Hillandale Neighborhood. My good friend, Dick Allen, who has now passed, developed and built this award-winning neighborhood around the year 2000. The Colonial-styled homes have that New England charm and the style is timeless. The neighborhood is popular for its not-too big size, quality construction and the close proximity to Winslow. Most homes in this neighborhood, if priced right, sell quickly. This home was purchased several years back by a very talented couple on the island who love to truly elevate homes. Since the year 2000 is now 23 years ago this home was in need of the expected updates. However, these homeowners really focused on the details and brought this home up to the next level with refined fixtures, hardware, paint, deck, and landscaping. And a charming dutch-door. This was not a Home Depot remodel. The seller's furniture and interior design skills made the entire package so fun to tour and show to buyers. This home was listed in the slower fall season after the market had started its shift, but it still revived multiple offers and sold for full price.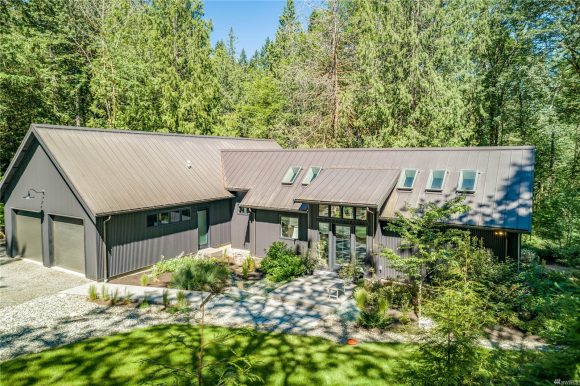 #9
Original List Price: $1,298,000
Sales Price: $1,545,000
Days on Market: 7
Date Sold: 8/4/2022
Click here for more photos and the full listing
For #9 we move just a bit out of town over to Springridge Road and this custom modern home designed by Johnson Squared Architecture and built by Jerry Reese Construction in 2018. The modern flare of this home, coupled with the one level living caught the eye of many buyers and although buyers were starting to wonder if the price run-up might be over, there were still five offers on this home. On Bainbridge Island, newer homes are harder to find. Building custom is slow and expensive and if you need or want one level living, your options are slim. All of these elements made this home popular and a good investment on the island. I love the dark metal exterior siding (yes, metal) and the vaulted ceilings in the great room. I also love that the style is not too over-the-top modern, so it could lean easily to work with warmer decor choices. Jerry Reese builds a solid home and Devin Johnson, who designed the home, has a great eye for style, but also works hard to make sure a home is functional for everyday living. Teaming up they built a gem of a home that was fun for me to sell.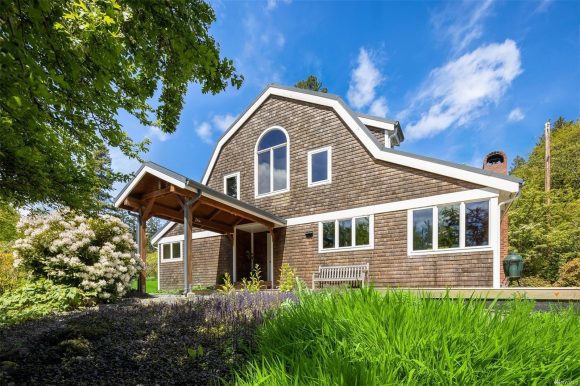 #8
Original List Price: $1,298,000
Sales Price: $1,485,000
Days on Market: 5
Date Sold: 6/14/2022
Click here for more photos and the full listing
For #8 we head down to the south end and Pine Street in the Eagledale Neighborhood. This is another architecturally designed home, but one that is a bit older. Designed by James Cutler and built in 1977, this cozy cedar-shingled cottage oozes character and charm. With car-decking ceilings, exposed beams, a reading loft and a dutch door, the elements inside are nothing near cookie cutter. The layout was efficient and not predictable and maybe somewhat quirky, but for me that just added to the charm and soul of the home. I love not only the style of the home, but also the sunny, bucolic south end property. Surrounded by a bit of land for gardening and with the sun exposure to do it, this is a fun south end package. Again, in June, just as the market was starting to shift, this home still attracted multiple buyers. Charm typically causes a bit of a frenzy here on the island.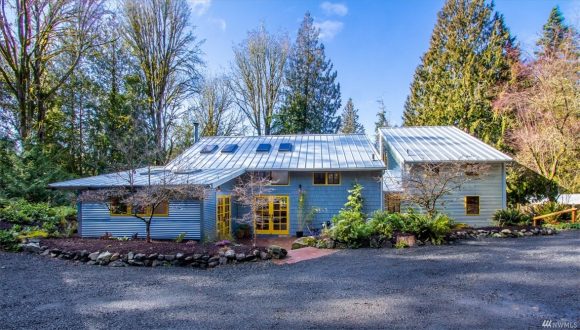 #7
Original List Price: $1,425,000
Sales Price: $1,825,000
Days on Market: 6
Date Sold: 4/7/2022
Click here for more photos and the full listing
For #7 we move to the central area of the island and Paulanna Lane. One of the earlier sales in the season, this large property stirred up a lot of excitement. On five acres, with three different living spaces, plus a small barn, this multi-faceted property appealed to many buyers who are still looking for more space and flexible options in the new Covid-era. Previously owned by an architect, this home was added onto over the years and has a fun style and rustic, modern flare. I love the use of metal on the exterior, the yellow and grey color combo and the warm, natural materials used inside. And outside beyond the home is an apartment, cottage, barn, garden spaces and even a pasture area. I love, love a property with multiple buildings. And, there were once cows and horses on the property, not to mention goats and chickens. This home saw multiple offers and I am still excited that my buyers were victorious AND that they are loving their new home and lifestyle.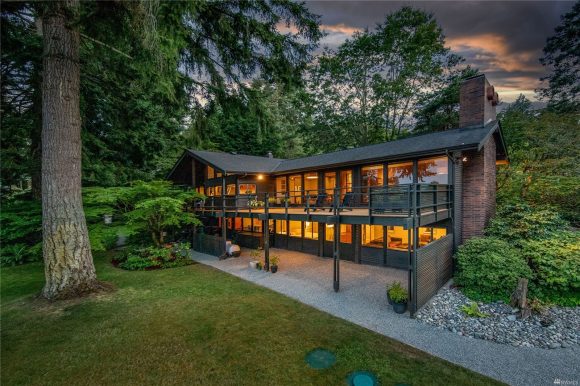 #6
Original List Price: $1,698,000
Sales Price: $1,725,000
Days on Market: 19
Date Sold: 9/23/2022
Click here for more photos and the full listing
For #6 we move up to the north end of the island to Brackenwood Lane. True Mid-Century Modern aficionados may not think this home should be described as MCM, because it was built in 1970, but it certainly celebrates many of those design elements. And is a just fun eye candy. This home has been thoughtfully updated to keep the original flare and tie in with the gorgeous, lush property with Puget Sound views. The true wall of windows out to the backyard/views and the refined, stylized carport were some of my favorite aspects. I also loved the dark brown/black exterior color of the home. It really gave the property an elevated feel. This home was listed in late summer and although popular, the season had slowed down and the market was not oozing with optimism. Still, after only a short stint on the market this home sold for slightly over asking after taking a home sale contingent offer. And yes, contingencies are something we are seeing again in our market.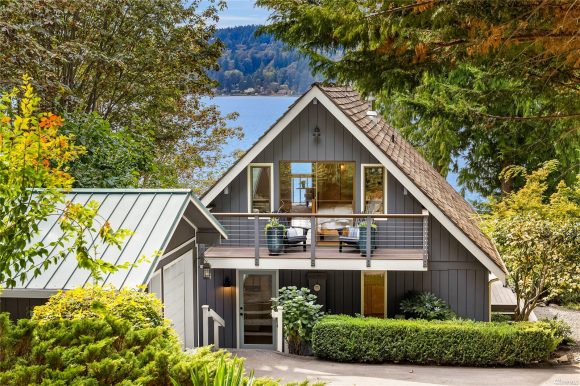 #5
Original List Price: $1,498,800
Sales Price: $1,600,000
Days on Market: 1
Date Sold: 10/6/2022
Click here for more photos and the full listing
For #5 we move south to this cute gem of an A-Frame Beach House on Crystal Springs Road. I am currently slightly obsessed with A-Frame houses. I love their simplicity, sharp lines and efficient use of interior spaces. They usually come with an entire back or front wall of windows, as this home does, which makes for a grand entrance with impressive views. Since this waterfront cutie enjoys prime Puget Sound views, the owner put a beach cabin style spin on the classic A-Frame Cabin, which I think worked well. The splashes of color with sea-glass hues and use of high-end materials like ironwood decking give this home a refined cabin vibe. This not-so-big home does make great use of space and the vaulted ceilings keep the feeling open and light. A fun one to see in person. At the end of the summer, after only one short day on the market, the seller accepted an over-asking offer. I am glad I was able to zip in and see it!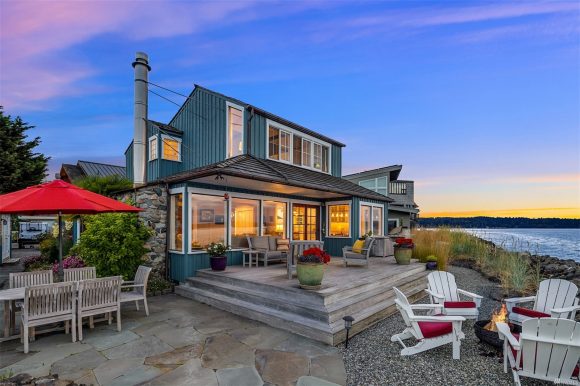 #4
Original List Price: $1,750,000
Sales Price: $1,810,000
Days on Market: 6
Date Sold: 10/3/2022
Click here for more photos and the full listing
For #4 we move north again to the Sand Spit on Point Monroe Drive. Speaking of cute little houses, this little jewel-box is soooooo darn cute. This is one of those homes you dream of owning so you can pop over on the weekends for a quick retreat or some me-time. I saw this home during an open house and everyone else seeing it too was head-over-heels. With fantastic nooks and crannies and charming finishes, this home was hard to stop thinking about. I loved the classic white galley kitchen with a connected dining space that boasts windows and water views on three sides, the exposed beams, and car-decking ceilings. The tiny apartment above the garage was very well executed and just plain adorable. More than one person was indeed smitten with this home and in the slower, fall season it still saw multiple offers and sold over asking.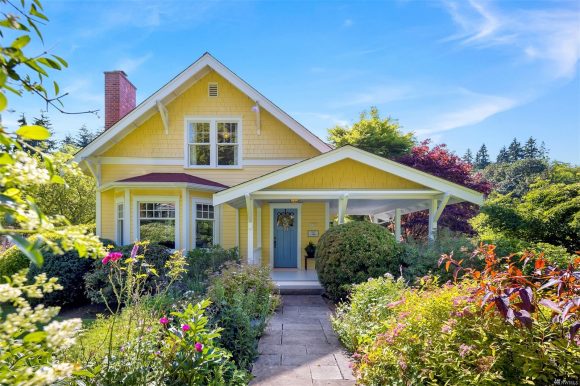 #3
Original List Price: $1,750,000
Sales Price: $2,108,000
Days on Market: 4
Date Sold: 8/8/2022
Click here for more photos and the full listing
For #3 we head back down south to Taylor Avenue, and again to the Eagledale Neighborhood. And yes, it is time for a repeat. I have been doing real estate for 15 years on the island now, so this is my 15th Top Ten List. So yes, we see some repeats once in a while. This charming historic home, The Swanson House, on Taylor Avenue originally made my list back in 2017 after I sold it to my clients. At the end of this summer, my sellers had to make an unexpected move out of state and this sought-after home went on the market again. My client is a designer and her skills, coupled with the built-in charm of this older home make for a fun visual package. Although having undergone a major remodel and add-on, this home still has many original 1911 elements, which blend well with the modern conveniences added to the home, like the state-of the art chef's kitchen. Some of what I love about this home is a bit of the old and a bit of the new. I love the older, large covered front porch and the original cozy living room off the entry, but I also love the large, open family room that was added on to the back of the home, which sits up high on the property with widows on two sides to soak up the sun and vistas both east and west. And the property and land itself tug hard on my heartstrings. I love the green pasture area, fenced cutting garden and mature landscaping, topped off with an entry arbor and picket front gate. On the market for only 4 days, my clients received 3 offers and accepted an offer well over asking price.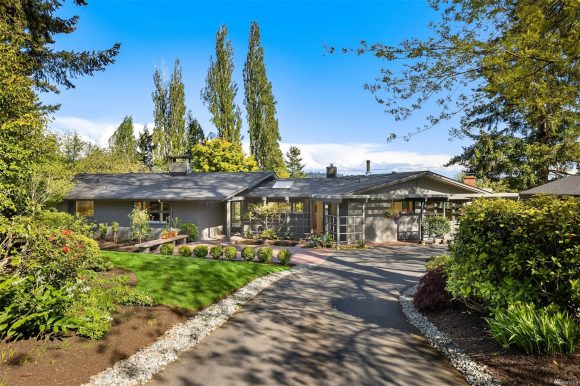 #2
Original List Price: $1,998,000
Sales Price: $2,700,000
Days on Market: 7
Date Sold: 6/8/2022
Click here for more photos and the full listing
For #2 we stay south and head over to Point White Drive. It is always a treat and an honor to see a home for the first time. This home is truly an estate property and has not been on the market during the 15 years I have worked on the island. A rare package of 1.5 flat acres with views, a one level 1954 MCM home with an accessory dwelling unit, plus 25 feet of private waterfront for beach access. This property has rare and unique written all over it. It is seldom that these type of properties get sold outside a family, but this one did. I love a one-level home and this one with MCM elements and thoughtfully placed rooms and windows was a treat to tour. My favorite space was the brick terrace just outside the kitchen. The views out to the Sound, Mt Rainier and Pleasant Beach are just stunning. You really would want to spend all summer on that terrace. But overall this one was about the package. The multiple living spaces, large lot, waterfront access/lot, views and a one-level MCM home. Initially well executed and well maintained over the decades. Rare. As expected, this home garnered a lot of attention and saw multiple offers. It sold significantly over asking price.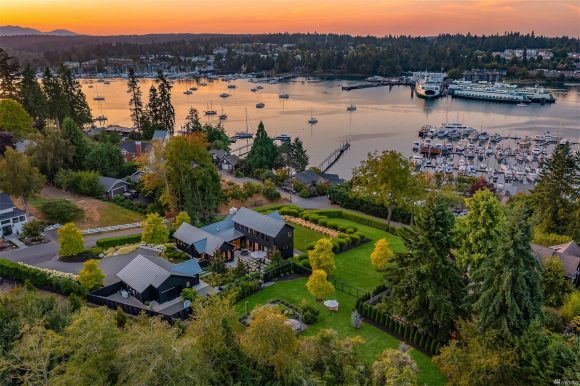 #1
Original List Price: $4,600,000
Sales Price: $4,600,000
Days on Market: 5
Date Sold: 9/16/2022
Click here for more photos and the full listing
For #1 we move back to Eagledale yet again, this time toWard Avenue for a fantastic, newer build overlooking Eagle Harbor. This home was custom built in 2017 by Jim Hobbs and designed by Johnson Squared Architecture in the modern farmhouse aesthetic. No detail was overlooked. No expense was spared and the end result is a rare and unique, fresh estate property. Just as it is rare to see the 1954 estate on Point White come up on the market it is also rare to see a newly built custom estate hit the market so soon after completion. But once in a while it does happen, and because all of the finishes and decisions on this one were so well executed, this home got a lot of attention, even at this higher-end price point. It is hard for me to decide if I like the indoor or outdoor spaces more. They truly created outdoor rooms in this home on the back patio and back deck. They both overlook the harbor, so the views are lovely, but the simple, modern style of the spaces work to promote relaxation. As a gardener, I covet the fenced garden area, great sun exposure and overall manicured acreage. Inside, my favorite spaces are the indoor studio/maker-space the with wrap around benches and concrete floors and the bathroom with the infrared sauna. And I also really like the dramatic black exterior of the home. It contrasts so nicely against the green grass and landscaping. No. Detail. Was. Overlooked. And . . . I will just add that the furnishings truly punctuated the home perfectly.
Touring homes is something I feel lucky that I get to do on a regular basis. The list above illustrates homes that stuck with me after I walked out the door. I like quirky, charming and unique. I still love a classic cedar-shingled home. And it appears I am also a fan of the darkly painted home, since three of them appeared on this list! To get a feel for the other homes I have personally been drawn to over the years, take a look at all of my top ten lists in one place, here. This is also a great way to get a feel for the beautiful and unique homes on our island.
I look forward to mentally crafting another fun list as I tour homes in 2023. Cheers to a new year!
Listing photos courtesy of NWMLS.