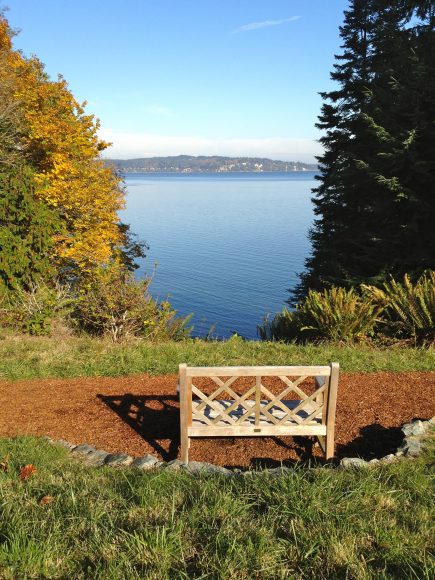 A few weeks ago, my friend and I visited another Episcopal Church on Bainbridge Island, Grace Episcopal. From the moment we drove up, we were both smitten by the lovely architecture of the church. The modern feel of the architecture with the richness of real wood and loads of windows, made this an inspirational setting. The church was full of people and had a lively feel. There was a great mix of young and old and just a general warm feel.
The order of the service followed much the same as St. Barnabas, which we had visited earlier, with a sermon on the topic of community and our connectedness to one another, and a good amount of music, which was a bit more jazzy than traditional, and the reading of scripture. After the sermon and before communion, the children, who were at children's church, joined the group and then commenced in communion. The communion took a while because the church is large and the vast majority participated. The communion was in a circle fashion, as was the seating in the church and, overall, had a more up-to-date feel than I was used to. After communion, at the end of the service, the congregation celebrated birthdays and anniversaries, again in a circle in them middle of the church. Children, adults and couples, shared their celebrations with the congregation and you could tell it was a special moment for young and old. This was something I could see my kids getting excited about when it came time for their birthday.
After church, a wall was removed and there was a post-church gathering of cookies, juice and coffee, time to socialize, which spilled onto a patio, with a great view of the surrounding woods. The calendar of the church was filled with other groups on a variety of topics, leaving many options for where and when you night attend.
This is a beautiful church, full of light and sun, with a great blend of tradition and modern flair. The sermon was contemporary and the congregation diverse. It had a good, warm feel. Services were at 8 or 9:30.