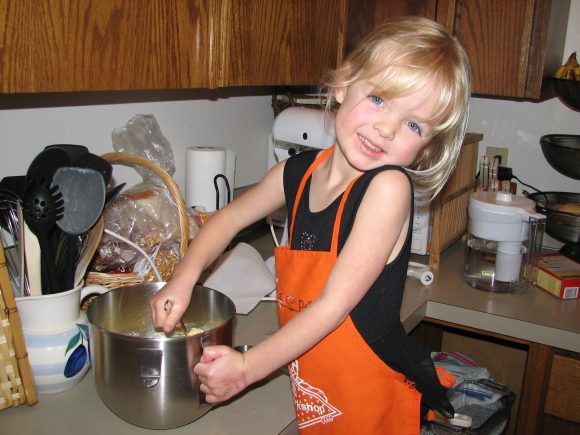 My husband bought me Jessica Seinfeld's (Jerry's wife) new book Deceptively Delicious for Christmas.The book is attractive and well put together and has many clever ideas about how to sneak healthy food into popular kid's meals.Most commonly, it uses the concept of pureed vegetable or fruits mixed into batters or toppings.For example, butternut squash puree is mixed into the ever popular kid's meal, macaroni and cheese.
After receiving the book, I parked myself on the couch and read through it tagging pages with recipes I thought I could trick my kids into eating.With a half dozen chosen, I later headed to the store and found it quite easy to pick up a few more carrots, squash, and zucchini, nothing too weird or out of the ordinary.
The first recipe I tried was the famous mac and cheese, Macaroni and Cheese 1, to quote the book exactly. Now, I must pause to say that my children are typical kid eaters. My four year old is more open to a variety of flavors, but has her favorites and those favorites look a lot like fast food and sweets. Although she likes Pad Thai and salad, she will clean up the entire playroom for a bowl of ice cream from Mora, the popular decadent ice cream shop in Bainbridge Island, where we live. My eight year old, eats like she is training for a marathon. Her preferred meal is plain buttered pasta with buttered bread and milk. She is my beige eater and is much less open to trying new foods. The real kicker is that she has heavy influence over my four year old, so when I prepared the mac and cheese and put it on the table, to my delight, my four year old took a bite and said "mmmm, yummy." My eight year old looked at her suspiciously and took a bite herself, and first said "mmm," to my surprise, then the "I don't know, I don't think I like this" followed. With that said, my four year old willingly jumped on the band wagon and put down her fork in agreement. This type of team playing on their part makes me just crazy. So, the rest of the meal was like many others, with pleading and begging on my part, with a touch of bribery tossed in to get them to finish their bowls of Macaroni and Cheese 1. Now, I must add that I loved the mac and cheese myself. Made with Tillamook Cheddar, butter and milk, there wasn't much to not love, except the butternut squash puree, that was mixed in. However, it could not be detected once it was mixed in with the rich cheddar and butter.
My kids just do not like change when it comes to food. If I threw away all the boxed mac and cheese and spent a grueling month converting them, it probably could be done. But, this book as supposed to help me dodge that ball. Now, to Jessica's defense, she says that she purees all of the vegetables on Sunday nights while her and Jerry talk in the kitchen (what a cute image). I am going to safely guess that Jessica and Jerry's house is larger than mine (didn't they buy Billy Joel's house in the Hamptons?), so running the food processor after the kids go to bed isn't a real problem at their house. However, at my house, one of my kitchen walls partly backs up to my kid's bedroom, so the pureeing after bed isn't really an option for me. So, the pureeing of the veggies was done in plain site of my kids, however, they were not sure exactly what I was doing or what I was doing it for, but they were a bit suspicious.
So, I will march on, with my food processor in hand, trying to be more deceptive next time, to boldly attempt what moms around the world try every day, to feed their children healthy food.