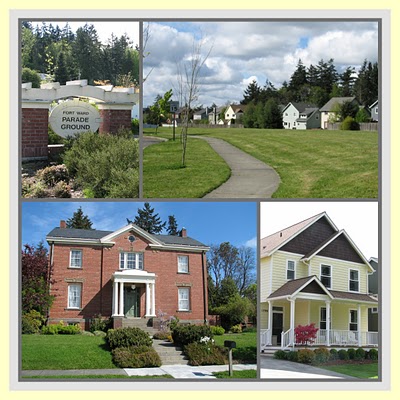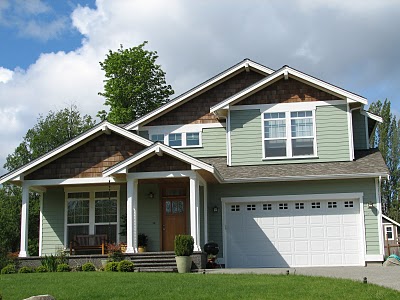 The Historic Fort Ward Neighborhood is perched on the sunny south end of Bainbridge Island, just above South Beach and Rich Passage. It is also adjacent to Fort Ward Park, which offers miles of scenic trails (some waterfront), picnic areas, and a public boat launch.
The neighborhood is centered around the historic open-space Parade Grounds, the a convenient central meeting place for neighborhood gatherings. Historically, Fort Ward was established in 1890 as one of several US Army Coastal Artillery Corps installations built to defend Puget Sound from enemy warships. Its primary objective was to protect the nearby Bremerton Naval Shipyard. Coastal artillery batteries like Battery Vinton were located at Fort Ward. The artilleries guarded an underwater mine field placed across Rich Passage. The guns were removed on July 19, 1920, never having been fired for defense, and were shipped to France.
Then, in the 1920s, Fort Ward was placed on inactive status, but a small number of men were still stationed there. In 1928, the fort was essentially left abandoned. The fort remained abandoned for several years, until 1935 when it served as a state-operated summer camp for inner city children from Seattle.
Three years later in 1938, the US Navy took over Fort Ward from the US Army. The US Navy found the fort to be attractive after tests had shown that it was an outstanding location to eavesdrop on radio communication transmitted from the Far East, chiefly Japan. In August 1939, the US Navy relocated the Astoria, Oregon intercept site to Fort Ward. This was the beginning of the development of Fort Ward as a top-secret military listening post.
Rhombic antennas were installed on the Parade Ground, and the old post exchange/gymnasium building was converted into a top secret listening post code-named "Station S." Inside "Station S," men and women worked 24 hours a day, listening in on Japanese naval communications, which were transmitted in the Japanese Morse Code. Also during World War II, a submarine net was placed across Rich Passage.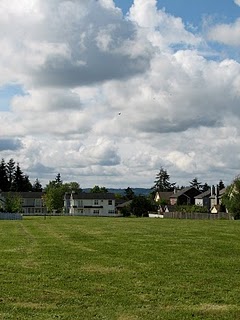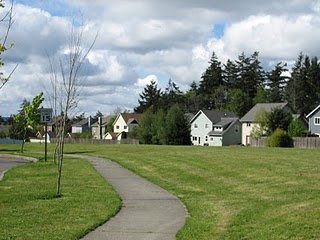 Views of the open space on the Parade Grounds. Many homes line and back to the Parade Grounds.
From 1910-1923 the above building was a Guardhouse and Jail. However, during World War II, the above building was code-named "Station S," and was a top secret listening post. Meanwhile, the Navy developed a "cover story" for what was happening at Naval Radio Station Bainbridge Island. The story was that it was one of the few Naval Reserve Radio Schools in the nation, where military officers learned and executed Morse Code. From 1938-1945, it was known as the (Morse) Code School. This building is now a private residence, which sold last for $1,000,000 in July of 2020. The home is just over 3,500 square feet.