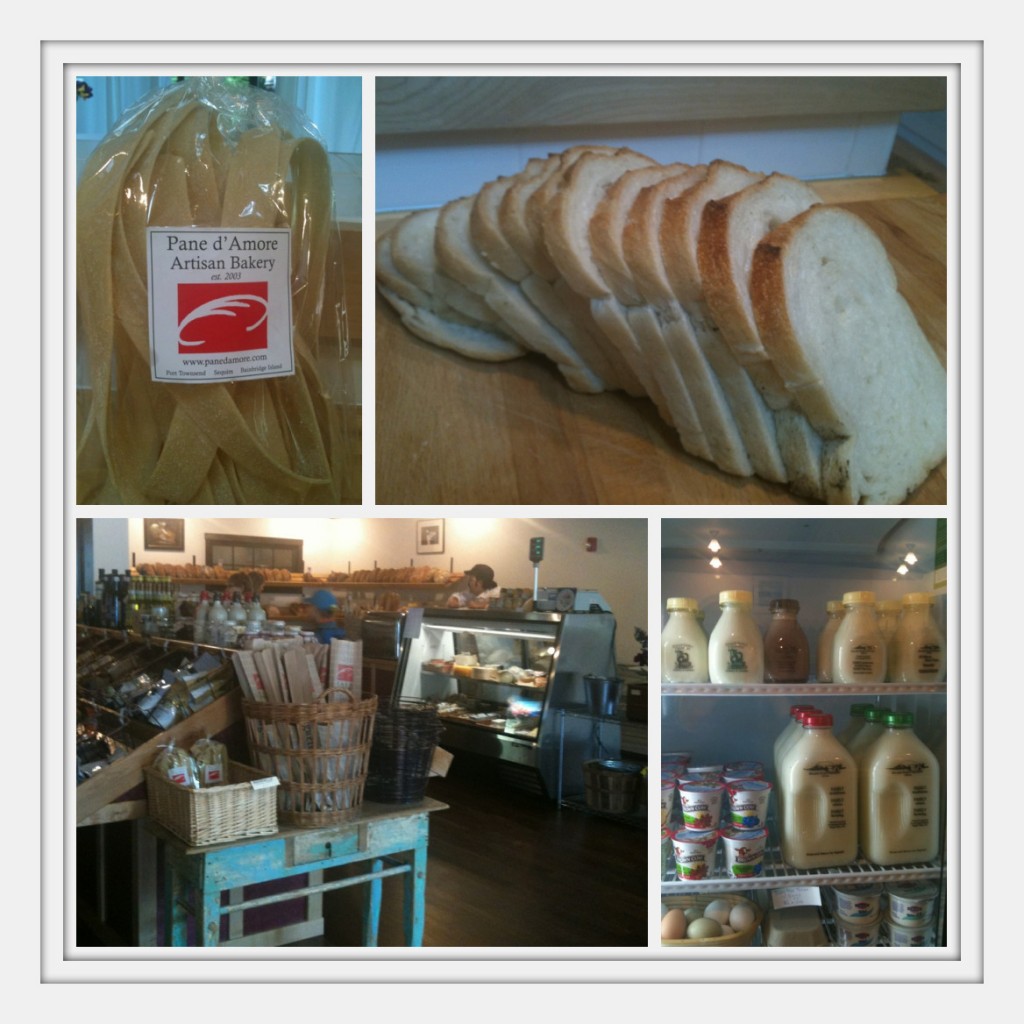 4569 Lynwood Center Road NE
Bainbridge Island, WA 98110
206.780.1902
Fresh bread comes out of the oven until 11am
The Pane d'Amore Artisan Bakery opened this week in the Lynwood Center on Bainbridge Island. Before opening the doors of their bakery they had previously supplied breads and pastries to The Treehouse Cafe, who is now their friendly next door neighbor. Pane d'Amore opened their doors in Port Townsend four years ago, then expanded to Sequim before also adding this Bainbridge location.  And if you are local, you may know they brought their truck over and sold bread at the Treehouse Cafe on Mondays too.
I got a chance to check out the bakery twice last week, which truly is more than a bakery.  The first day I visited I bought wild lingcod, greens from Bainbridge's Tani Creek Farm,  pasta made in Port Townsend (above) and a loaf of fresh bread (also above).   I was very excited to see milk in glass bottles, so excited that I had to return the next day to buy some half & half from the Strauss Family Creamery, chocolate milk from the Golden Glen Creamery, aged salami, tomato sauce and goat cheese.
Much More than Bread
The store also carries gourmet chocolates, salmon, wine & beer, spices, gourmet ingredients, deli meats & cheeses, pastries, fresh eggs, juices and other dairy items like yogurt.   The shelves are not 100% full, but items are on order and the manager Elliot Yakush said they also plan to carry shell fish and expand their deli case.  Their goal is clearly to provide, fresh, locally grown or harvested food.  And, people are indeed impressed and intrigued.  While I was there on day three the store had an impressive crowd, and more than one person walked in and exclaimed, "your open, I'm so excited!"
The bakery is the big draw, they bake between 10 and 20 varieties of bread every day. The pastries are quite impressive too, I love the crispy croissants and the bakers are proud that they use all organic ingredients.
I know many islanders who live on the south end are pleased to have a bakery and gourmet grocery in their neighborhood. Lynwood Center is just down the hill from our elementary school – I am very happy it is now on my daily route.  I think the store will do quite well both with locals and tourists exploring The Lynwood Theatre, Fort Ward, Lytle Beach and Point White.