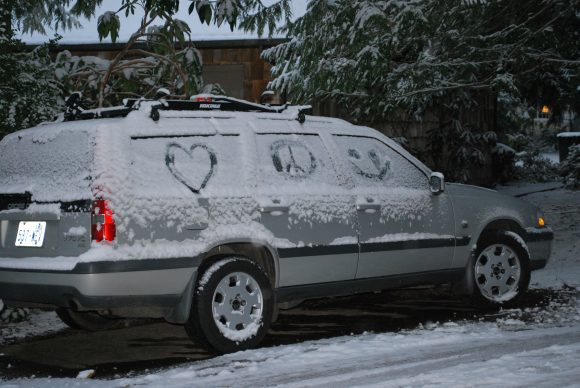 So . . . this has been a busy month.  This past month I have been busy at work like it was 2006.  Add to the equation tax time, my daughter's birthday, family visiting, and a large volunteer project at Blakely I said yes to last year when business was slow. . . and you have what's commonly called overload.   So, when it is busy like this, my husband and I, like fools, tend to add fuel to the fire, and in this case we did so by deciding now is the time to buy our very-much-needed second car.
Can I insert here that this will be a used car.  So, last month, our used car shopping started.  In short the used car buying process is a nightmare . . . a nightmare with your kids in tow. As a real estate agent I have primarily represented buyers the past two years.  Now I am the buyer.
Our search began much the same way a home buying search does – on the computer.  After a few days of combing Craigslist and car dealer websites like an crazed computer addict, we hit the streets of Seattle to look at a few cars "in-person."  My husband braved it alone for one trip . .  which was unfruitful . . . and with great hope of purchasing one of the cars we had our eye on, we all (my husband, myself and my two ipoded up children) went over to the city.
What are we looking for?
In case you're curious to know, we have been trying to find an older Toyota Sequoia or Highlander with around 100+K miles. Why?  We need a carpool-camping-softball-canoe-carrying-mobile that kids can get in and out of without me cringing every time small, but muddy feet get into my "work car" that has dreamy, but very impractical light-beige leather.  We have been a one car family since last summer and I am proud that we have almost made it a year, but the scheduling of our days with one car was making my head hurt way too much.  The fact that I have to use a car for work has left my family stranded far too many times on the weekends . . . so we have motivation all around.
Car salesmen (and women) aren't working for you
Our first stop was at a Toyota dealer in Seattle.  Instantly our salesperson was our new best friend.  So friendly and bubbly in the initial stages.  Unfortunately I found her to be more fluff than facts.  On a large car lot, the fact that I knew more about different Toyota models and their features than she did, made for way too much running around looking for cars.  I figure if I know that Toyota did put a third row in a 2001 Highlander, a Toyota salesperson should know that too . . . or maybe I am just a house geek and a car geek.
However,  what I find most disturbing about car-buying is that your salesperson is not on your side, not your advocate.  They work for the dealer.  I consider myself an advocate of the buyers I represent, helping them understand the house and the house buying process.  The negotiating on buying a car is a ridiculous process.  Your salesperson starts with a number and whatever number it is, it is always $500 over what the dealer paid for the car.  That was the case at two dealers we talked to . . . but within minutes we were two thousand dollars below our original number.  I find it hard to believe they would take that hit, so quickly.  Unfortunately your car salesperson usually can not be trusted.  So, that makes the rest of the process unsettling as well.  When they told us the car we were looking at had been inspected and well taken care of, we wanted to believe them . . . we really did, because we wanted this entire process to be done, but unfortunately, whoops, they had just lied to us minutes before.  So, we asked for maintenance paperwork that they could not produce.  Off the lot we went, with our bored, hungry kids leading the way.
To inspect or not inspect?
Rarely does anyone buy a house without having a licensed, third party inspect the home.  However, rarely in the car buying process does that same thing happen.  Salespeople make it out to be so much trouble and pretty much lose interest in the buyer at that point.  With car lots overflowing with cars, I find the unwillingness to make the buyer feel good their purchase very unsettling.  So, after visiting three car lots in the greater Seattle area and hearing "So can we make something happen today"  one too many times, because once is really enough . . . we headed home, in the pelting down rain, exhausted and Toyota-less.
After a third attempt at a Sequoia where the seller "flaked" when my husband left work to meet him, we became, frustrated, unmotivated buyers.  Nothing was out there that met our needs, in our price range.  I have felt that way as a home-buyer myself and I felt even more empathy for my home buyers who are currently feeling that way as I write.  It is hard to pay a lot of money for something that does not really fit your needs or fill your want list.
Just pick one already
A few weeks later with friends jabbing us about not having found a car yet, like we were crazy, picky people (okay, maybe we are), we approached Craigslist once again.  But, this time from the perspective of HGTVs House Hunters (see three – pick one) – we were going to make a choice from what was in front of us, meaning we were going to look at something easy to check out i.e. on or near the island and broaden our options of acceptable and we were going to buy a car today.
Volvo Wagon #3
And, I am happy to report we actually did.  We went, we saw, we bought.  And really, I know I feel so much better.  It was not exactly what we wanted but it meets our needs.  The search process was dragging us down, and I am happy to move on.  So, in case you are wondering, we bought a Volvo.  We already have a Volvo, so it kind of seems obnoxious in a way (to have matching Volvos as our friend said yesterday), but this is an older model, with a third row, lots of miles, but well-serviced with a budget friendly price.  And yes, our third Volvo Wagon in ten years. Volvo was not really within our initial parameters, because having had Volvos, we know they can be pricey to maintain, but as a buyer, we knew nothing would be "perfect" . . . so we made the decision . . . we took a chance . . . and our life shifts forward, now a little smoother with two cars.