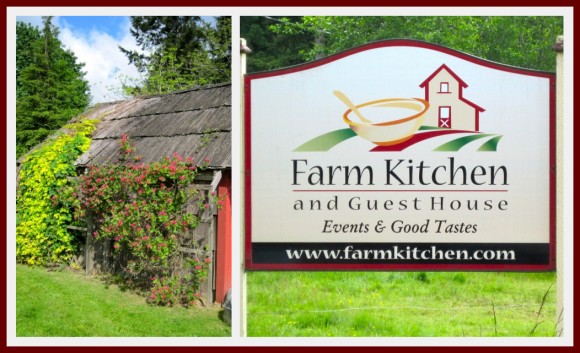 So, I will admit that May and now June have been very crummy weather-wise.  May is the hardest month for me in the Northwest.  Being a California native, I am used to superb spring weather in May.  Here in the Puget Sound Area, not so much.  I will say though, that when the sun comes out, you notice and you appreciate.  And the sun and blue skies do make for dramatic days living alongside all the trees and water.
This past weekend we had a one-day break in the gray and wet.  Heading over to the Farm Kitchen in Poulsbo had been on the back of my mind.  So, when the blue skies popped out on Saturday morning, we jumped in the car and made the short 20 minute drive to the farm.
The Farm Kitchen is an 18 acre organic farm, that serves as an event and retreat venue.  It also has a commercial kitchen, so the first Saturday of the month, from 8-12, they serve up a farm-style breakfast.  The menu changes monthly, but this past weekend we had asparagus quiche, home-made chicken-apple sausage patties, lemon-currant scones, fruit and pecan sticky-buns.  The kids had fluffy scrambled eggs (hate the typical runny-buffet style, but loved these), potatoes, and sausage.
The best part, after the amazing breakfast, you can explore the farm, and on days like this past Saturday, you could sip your coffee and linger forever in the gardens.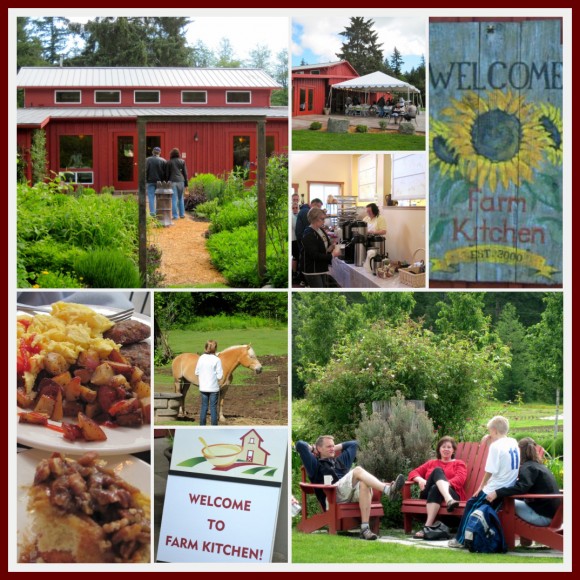 Our breakfast for four was @ $40 with tip.  A great activity for out-of-town guests.  I know we plan to make it back this summer.
Farm Kitchen
24309 Port Gamble Road NE
Poulsbo, WA 98370
360.297.6615
info@farmkitchen.com
Note – The Farm Kitchen is no longer doing Saturday Breakfasts, but they are still an event center for weddings, etc. and teach classes.