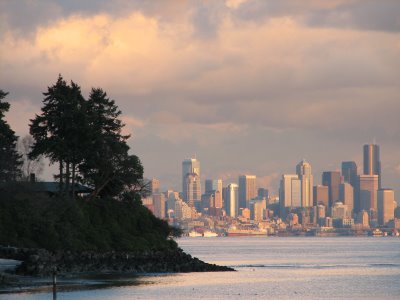 Last week our little island was written up in the New York Times. The article has some great images of the island and quotes from local islanders. It is nice to get so much attention. We were in Coastal Living at the end of last year and have been featured in Sunset, as well. I guess we are quite the vacation spot.
The thing I found interesting was how the NY Times article made it sound like there are just a bunch of vacationers here. Funny, because we chose the island for all the reasons it makes sense to live here full time – and raise a family. The great schools, the low crime rate, the proximity to the city. The article does mention this, but the slant is heavy on our isle being the place to get away.
Now, we do like the same charm the tourists like too – the coffee shops, art galleries, and comfy bookstore down in Winslow. The charm is fun and quaint. The bonus with Bainbridge is that you also have a community of folks that make living here and raising a family viable. You can't do that in every little charming spot. My husband and I spent a lot of time in Mendocino before we had kids and would have loved to live there. But, there were two problems, no jobs nearby, and not a big population with kids in school, i.e., not a great place to work and raise kids. For us, Bainbridge is the right mix of rural and urban. So, maybe the article has a point, living here is just like being on vacation full time?