Funky Visual Feast
On Sunday my friend Wendy and I went on the Funky to Fabulous Houseboat Tour on Lake Union in Seattle.  Floating homes have always intrigued me.  And of course, back in 1993,  we were all intrigued by Sam's (Tom Hanks) hip houseboat in Sleepless in Seattle (gray home at bottom left hand corner, yes, that is the same one – just a little older, but very much still afloat). That particular houseboat is on the Westlake side, at the end of its dock and it does indeed have movie worthy views of Gasworks Park and the Space Needle.
The homes on the tour were not for sale, but in the tour brochure it did note that in 2010 one of the homes on the lake sold for 1.4 million – and there were a few more that sold in the million range too.  Seems like a very narrow niche market like floating homes, might not be suffering as much as some markets.
Murphy Beds Abound
While I am a huge fan of getting the most out of small interior spaces – we saw many a Murphy Bed, cool nooks, bench seats, washer and dryers in the walk-in closets, you get the idea –  I was most inspired by the outdoor spaces folks created around their homes. Rooftop patios,  floating patios and garden beds, funky garden art  and amazing potted plants were all part of the local color.  We were both impressed by the fruit trees (with pears on them, yes) and abundant vegetable gardens, potted, hanging and stacked about.
A Vibrant Floating Neighborhood
What I liked best of all were the colorful, creative exteriors of the homes.  A fun, vibrant neighborhood, to say the least.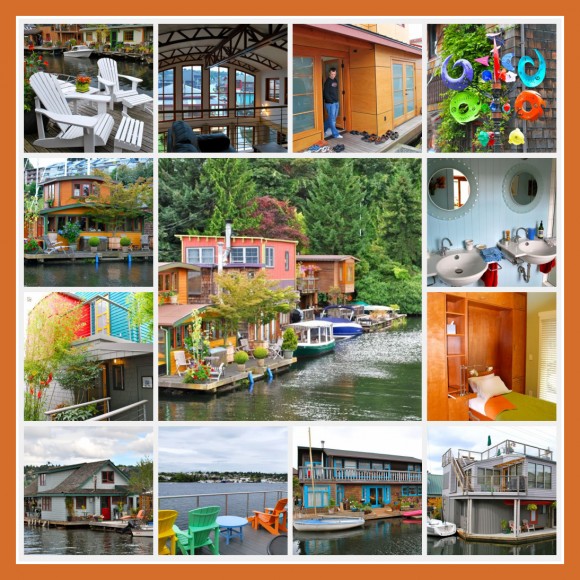 Great Places to Play Around Lake Union
All day long we we had a front row view of Gasworks Park.  I am used to the reverse view, so it was kind of a neat perspective change. So, just a reminder that Gasworks Park, is a fun, easy day trip from Bainbridge Island.  There are cool things to climb on, paths and trails along the lake  – you can even pick up the Burke-Gilman Trail there.  There is also the quaint, quirky hill to wind up and down (or lay on and watch the boats go by with the Space Needle in your vista) – and best of all the hill is a picturesque, windy spot to go fly a kite.