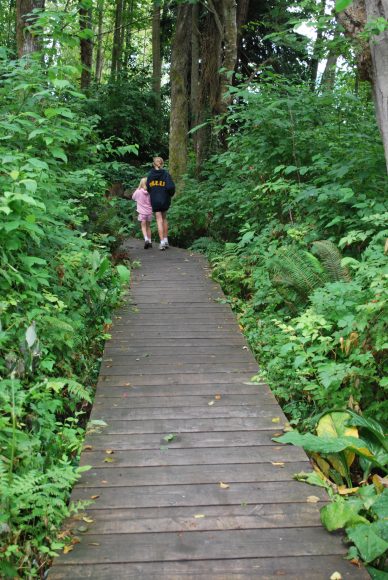 My girls heading down the trail in the Grand Forest
.
I have talked about all of the great trails on the island before and there are a couple of maps for the island that are very cool. My favorite Island Guide to Walking, Cycling & Paddling, (scroll to bottom if you follow the link) however is currently out of print and I am very bummed because I love giving it to folks who visit the island or who are brand new to the island. The good news is, it is still available online and maybe will be back in print soon. There are other trail maps out there, but this one has paddling too, which is just not on every ole' map.
Another good trail map is Bainbridge Island Trails which uses Google Maps to plot trails for hiking and running. Many of these are trails between and around parks and some are along the water, which is great. I want to try the run from Ace Hardware to Hawley Cove Park – if it ever stops snowing. Actually, the sun is out right now, so I really have no excuse!
Some local folks have plotted out bike routes along the island and those can be found on  Bikely. I am much too chicken to ride my bike on the island roads, but many, many others, including my husband, are not. I prefer the tranquil safety of trails at Fort Ward for biking.
One last map you should know about is another trail map that give details and trail head locations for the different trails on the island. It tells you handy things like difficulty, good for kids or not, dogs ok, horses ok, or not.
Others out there you like, e-mail me, I'd love to know about them.