The Most Anticipated Bainbridge Map of the Year
The Bainbridge Island Musical Fire Truck is getting into gear once again – this year it starts on December 11th and spreads musical joy around the island until Christmas Eve. Find your neighborhood on the map below. Click Map for a larger version. And an easier to read schedule is printed down below too.
The lighted, musical truck, driven by the Bainbridge Fire Department is out in the evenings from 5-9pm. Every year we enjoy gathering with our neighbors in our cul-de-sac, watching, waiting, (shivering) and listening for the firetruck. The kids are always excited. This tradition, which started back in the 1950′s, goes on my list of things considered "So Bainbridge." In our cul-de-sac, we are all hoping for a white Christmas season this year.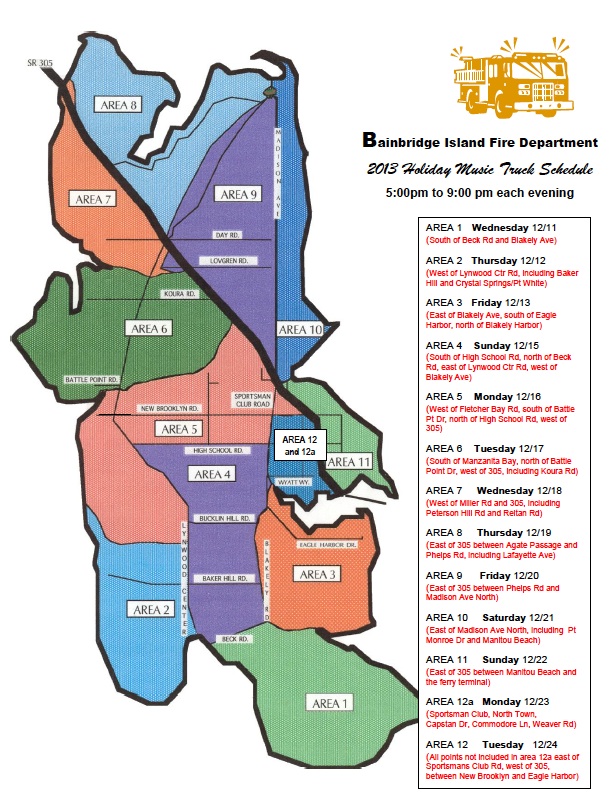 2013 HOLIDAY MUSIC TRUCK SCHEDULE
All roads are not listed. Look and listen for the musical truck in your neighborhood between the hours of 5:00 to 9:00 pm.
Wed 12/11 – Area 1: South of Beck Rd & Blakely Ave
Thurs 12/12 – Area 2: West of Lynwood Center Rd, including Baker Hill & Crystal Springs/Pt. White
Fri 12/13 – Area 3: East of Blakely Ave, south of Eagle Harbor, north of Blakely Harbor
Sun 12/15 – Area 4: South of High School Rd, north of Beck Rd, east of Lynwood Center Rd, west of Blakely Ave
Mon 12/16 – Area 5: West of Fletcher Bay Rd, south of Battle Point Dr, north of High School Rd, west of 305
Tue 12/17 – Area 6: South of Manzanita Bay , north of Battle Point Dr, west of 305 , including Koura Rd
Weds 12/18 – Area 7: West of Miller Rd & 305, including Peterson Hill Rd & Reitan Rd
Thurs 12/19 – Area 8: East of 305 between Agate Passage & Phelps Rd & Madison Ave North
Fri 12/20 – Area 9: East of 305 between Phelps Rd & Madison Ave North
Sat 12/21 – Area 10: East of Madison Ave North including Pt. Monroe Drive & Manitou Beach
Sun 12/22 – Area 11: East of 305 between Manitou Beach & the ferry terminal
Mon 12/23 – Area 12a: Sportsman Club, North Town Woods, Capstan, Commodore Ln, Weaver Rd
Tues 12/24 – Area 12: All points included in 12a, east of Sportsman Club Rd, west of 305, between New Brooklyn & Eagle Harbor