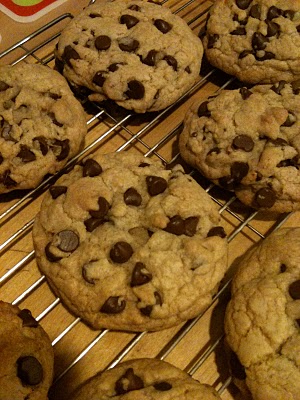 These are the real deal, not a stock photo!
But I do make chocolate chip cookies from time to time. I have gotten some requests for this recipe, so I am going to put it out there in cyberspace. The key to this recipe is sifting the flour . . . it is the great divider between good and amazing. I also recommend pumping up the oven to 375 degrees for the first five minutes. I have played around with this for a while (and you will too, it all depends on your oven), but following this basic recipe, I don't think you'll produce anything that will linger long on your kitchen counter.
These have been a big hit at my open houses, for new-neighbor gifts, and at my daughter's softball games. Or, any other excuse you can think of for a big chocolate chip cookie.
Ingredients
2 cups all-purpose flour
1/2 teaspoon baking soda
1/2 teaspoon salt
3/4 cup unsalted butter, melted (I use salted)
1 cup packed brown sugar
1/2 cup white sugar
1 tablespoon real vanilla extract
1 egg
1 egg yolk
2 cups semisweet chocolate chips
Directions
Preheat the oven to 325 degrees F. Grease cookie sheets with butter or line with parchment paper.
Sift together the flour, baking soda and salt; set aside.
In a medium bowl, cream together the melted butter, brown sugar and white sugar until well blended. Beat in the vanilla, egg, and egg yolk until light and creamy. Mix in the sifted ingredients until just blended. Stir in the chocolate chips by hand using a wooden spoon. Drop cookie dough 1/4 cup at a time onto the prepared cookie sheets. Cookies should be about 3 inches apart. The bigger the better.
Bake for 15 to 17 minutes in the preheated oven, or until the edges are lightly toasted. Cool on baking sheets for a few minutes before transferring to wire racks to cool completely.