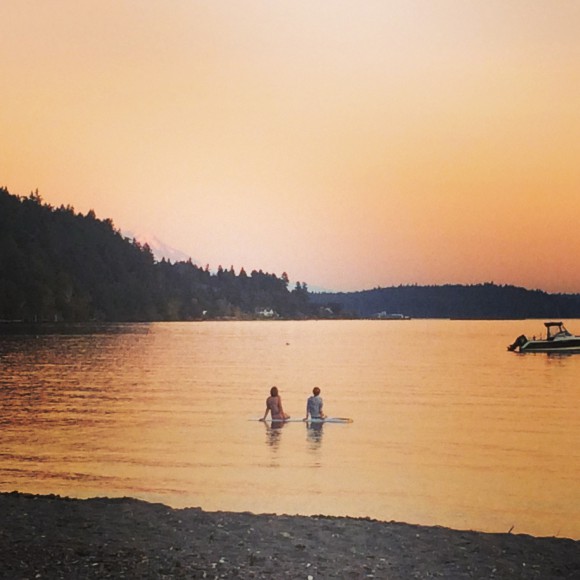 Endless Summer
This has been a fabulous summer on Bainbridge. No one in our family was ready for school to start, but ready or not, after Labor Day it did.  This year, more than ever, the weather was warm, the sun was out . . . all day, every day.  And around these parts our green backdrop, blue water and majestic mountains just don't look much better than they do in summer.  A bumper crop of tomatoes, crispy brown grass and dahlias all mean it was a warm, good one.
Dinners at Lytle Beach
One of my favorite things to do in summer is go to Lytle Beach for dinner.  It is simple. It is easy. And it is sunny until the sun dips down over the western skyline.  Lytle Beach is on the south end near Lynwood Center/Pleasant Beach Village.  The perfect spot for grabbing dinner on the way to the beach.  I have never been organized enough in this department to make and prep a picnic dinner, but I am really good at calling ahead for take-out.  Treehouse Cafe is right on the way.  As are Sawan Thai Kitchen and now Hammy' Burgers.  The Heyday Market and Pan d'Amor Bakery are two other great take out spots at Lynwood Center.  We're really lucky.  Grab dinner or lunch and head to the beach.  Lytle Beach is a public road-end beach.  There are chairs, picnic tables and old surfboards for the kids to play around with. As a family, we have been going there for years.  It is pretty perfect for a summer (or fall) dinner.
Seasonal Shift
And yes, the shift has happened. The leaves on my maple tree are falling on my deck and the feeling of fall is in the air. For sure.  Sunset is now just after 7pm (versus 9pm in the heart of summer).  Fall is indeed here.  But fret not, September and October are two of the most beautiful months on Bainbridge Island.  October is my send favorite month – to July.  There are so many things to do here in the fall.  The Harvest Fair is this weekend. The Washington Coast is at its clearest  and sunniest in September and October.  Those clear conditions are perfect for hikes on Hurricane Ridge or a weekend in Seabrook. Wineries have crush and the tasting rooms are a fun place to hang out on the weekends. And yes, we have a pretty great pumpkin patch here in October. But, we'll talk more about that next month. Happy Fall!