September went by in a flash. And the colorful month of October has officially arrived. I have said many times how much I love the weather in October on Bainbridge Island. It is sunny. It is crisp, but cold and the colorful leaves make a perfect backdrop for many fun activities on the island. There is no excuse to sit around in October. Here are 10 things to do this month: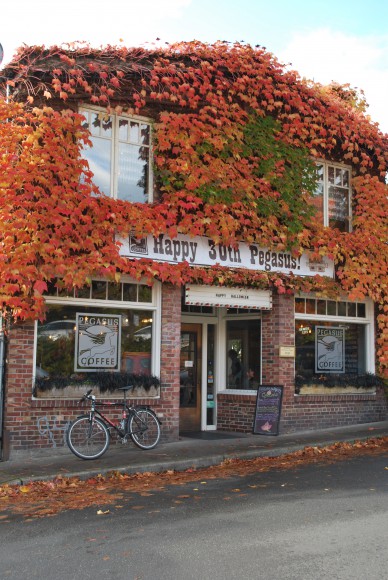 1. Bon Fire Pizza at the Taproom | Friday, Oct. 3rd, 3pm-9pm at Bainbridge Island Brewing
Bon Fire Ovenworks will be at the taproom with their mobile brick oven. Go and enjoy great pizza with friends and your favorite brew.
2. Super Squash Scavenger Hunt | Oct. 4th – Nov. 2nd at Bloedel Reserve
The Super Squash Scavenger Hunt is included with admission to the Reserve. Tour the pumpkins, search for squash and just enjoy the colors at Bloedel in the fall. Children will be given a special map to help find the all the hidden squash around the grounds and once completed, will receive a prize.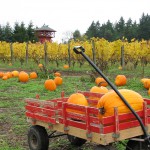 3. Find the Perfect Pumpkin | Anytime in October at Suyematsu Farm
Pick your pumpkin from the vine. Go on a hay ride and play in the hay maze. Pumpkins, squash and other fall produce for sale.
4. HOWL-o-ween | Oct. 26th, 1-4pm at IslandWood
Bring Your Own Pumpkin. A community favorite for ten years running. Free but Pre-registration required.
One of the longest-running off-Broadway shows of all time, this affectionate spoof of 1950s sci-fi movies has become a household name and will be on stage on Bainbridge for the month of October. Buy tickets here.
6. Eagledale Apple Festival | Oct. 18th, 2-4pm at HeyDay Farm
An open house at Heyday Farm. Celebrate the wonderful apples in the neighborhood and enjoy cider pressed from their old fashioned apple press. If you have your own apples to bring and a jug, they'll press them for you and give you juice to take home. No apples that have fallen on the ground, please (although they do take those for their pigs). The event is free with no registration required.
7. Pumpkin Walk | Oct. 17th & 18th 6-8pm at Bainbridge Gardens
The Pumpkin Walk is a fun, festive, family-oriented event hosted by Bainbridge Gardens. The proceeds of this popular, non-scary event benefit the Bainbridge Island Boys and Girls Club. Food and games. Donation at the door.
8. Spooky Woods Forest Walk | Oct. 18th-Nov. at Bainbridge Island Parks
Forest Walk from dusk on October 18th until noon on November 1st. Location to be determined – check here for exact location. Decorated forest trails. No characters. Unguided. Bring your flashlight. Go anytime. Free.
9. Farm Dinner | Oct. 25th, 6-8pm at HeyDay Farm
Enjoy a casual evening on the farm with live acoustic music and appetizers in the barn then join fellow island foodies in the historic farmhouse and share a fall family style meal of food right from the farm. $75 per person. Reserve tickets here.
10. Downtown Trick or Treat | Oct. 31st, 4-6pm in Downtown Winslow
Wear your costume and join all of your island neighbors on Winslow Way and trick or treat from shop to shop. Family fun. Spooky music. Hot cider. And don't forget the pumpkin ice cream at Mora.