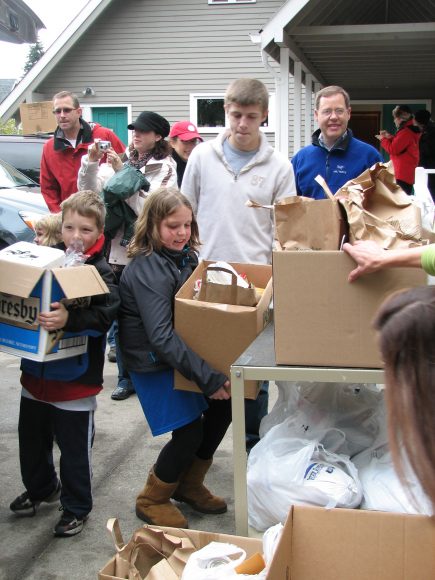 Yesterday, Helpline House collected food for Project Wishbone. Project Wishbone is a Helpline House project that matches the generosity of the Bainbridge Island Community with those in need. Helpline House becomes a store full of Thanksgiving provisions, where local families in need can receive all the ingredients needed for a great Thanksgiving dinner.
This month, some of our amazing neighbors, Meagan and Brad Stockman organized a neighborhood effort called
Commodore Cares
. Last Saturday the kids handed out flyers in the neighborhood requesting donations for Project Wishbone and yesterday the kids went back around again with wagons and picked up the Thanksgiving food. Overall, the neighborhood collected over
1,300 pounds
of food. The best part was, we were not alone, when we dropped off the food,
Helpline House
was a flurry of activity with numerous island residents unloading cars filled with donations. If you still want to help,
Helpline House
will soon be gearing up for Project Happy Holidays, where you can donate gifts until December 11th for their Holiday Store.