2020 is in the books, but it is always fun to look back at the list of sales on the island, especially the homes that struck a chord with me personally. My 2019 Top Ten List might have been heavy on the cedar-shingled homes, but last year seemed to show that a bright white or navy blue home caught my eye, and very likely the eye of a buyer or two or twelve. There were many themes last year but one that buyers saw over and over again was competition and multiple offers, as this list aptly demonstrates.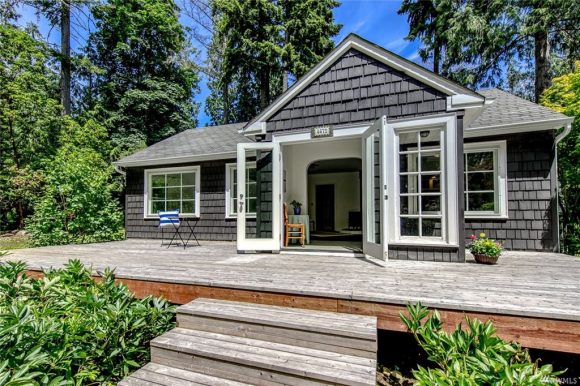 #10
Original List Price: $550,000
Sales Price: $667,000
Days on Market: 5
Date Sold: 7/2/2020
Click here for more photos and the full listing
For Number 10 we start on the sunny south end at this adorable cottage on a large .80 acre parcel atop Blakely Avenue across the street from Blakely Elementary. This home came on the market just as summer weather was arriving and so were the people who had decided they needed to get out of the city during COVID. This charming home built in 1946 got a lot of attention. It is rare to see a home listed in the $500k range here and this one, with a flat, cleared lot and an older smaller charming home that offered potential to expand later was unique. My buyer was not the only one to see that and ultimately the home had 10 offers. But, I am very proud to say that my buyer and I used teamwork and tenacity to make her offer the winning offer.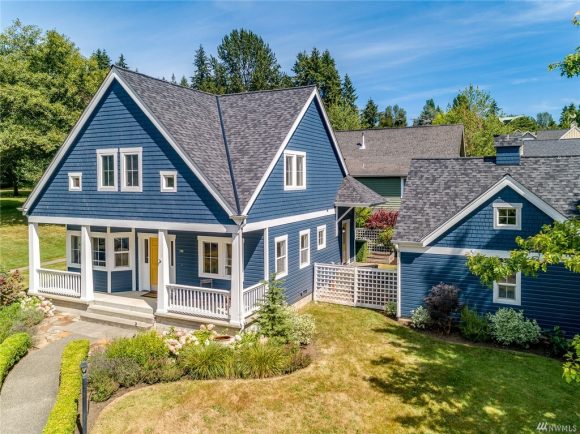 #9
Original List Price: $839,000
Sales Price: $904,000
Days on Market: 6
Date Sold: 9/2/2020
Click here for more photos and the full listing
For Number 9 we head into town to this home on Village Circle in the popular Hillandale Neighborhood known for its charming homes, which all have custom weathervanes. This home was the first home built in this development back in 1996 and it was actually the model home. This is the first home you see when you enter the neighborhood and it also sits next to the neighborhood's open/common space, so although the yard might be small, you have the benefit of the shared space right next to you. This home's classic colonial style has not faded over time and the previous owners did a great job with some on-point styling – note the terrific Ben Moore Hale Navy exterior paint with a bright yellow door. Elements like the home's tall/vaulted ceilings and the extra finished space over the garage drew the attention of several buyers. Bringing in 5 offers in late summer this home saw the expected escalation in price. Although many buyers coming over to the island this year really wanted land and space, the popularity of Winslow and in-town homes remained strong.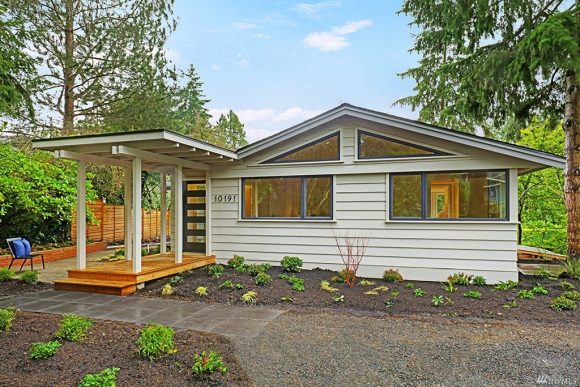 #8
Original List Price: $965,000
Sales Price: $970,000
Days on Market: 13
Date Sold: 2/29/2020
Click here for more photos and the full listing
For Number 8 we head a bit north to the Rolling Bay Area and this home on Beachcrest Drive. This home was previously purchased by a builder after it had sat empty for several years and was in quite a bit of dis-repair. Ray Stevenson and his crew at Jefferson Fine Home Builders turned this forgotten cottage into a modern, open-concept home that already had terrific southern exposure on a large lot. This Rolling Bay Area is always very popular as it is close to Bay Hay and Feed and scenic Manitou Beach. This home hit the market in February, just as we were trying to figure out the virus. During February and March our market was SLOW and we actually saw some deals for buyers in this seller's market of ours. A few Unicorns. This home is an example of how the market shifted quickly as it only closed for $5k over asking.
#7
Original List Price: $895,000
Sales Price: $1,065,000
Days on Market : 6
Date Sold: 9/22/20
Click here for more photos and the full listing
For Number 7 we head back closer to town and this home on Ferncliff Avenue. I have a soft spot in my heart for a true Mid-Century Modern Home and we do not see a lot of them here on the island. So, of course, this classic beauty, with a bit of a view of Puget Sound caught my eye, for sure. This home was thoughtfully remodeled and updated by the previous owners, who also used Jefferson Fine Home Builders for their project. This home's open concept plan and wall-of-windows out towards the view got a lot of attention in the late summer. I liked what the owners did with the kitchens and baths, but the oversized-back deck and groovy carport were some of my favorite elements. It, like many others on the market this summer and fall, saw multiple offers and a hefty price escalation of over $150K.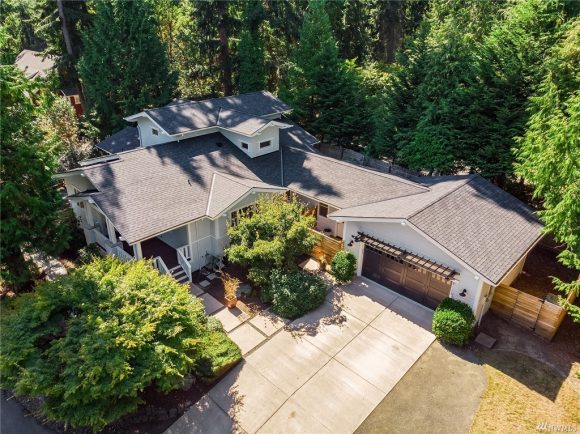 #6
Original List Price: $1,175,000
Sales Price: $1,275,000
Days on Market: 4
Date Sold: 9/22/20
Click here for more photos and the full listing
For Number 6 we head right back into town for this home on Eleanor Place, right off the Wing Point Golf Course. Yes, another white house. This home was built by popular Craftsman home builder David Spellman of Spellman Construction in 2003. The previous owner had done great work refining and updating after their purchase as the home had been a rental for a number of years. This home's classic Craftsman style paired with an very open-concept floor plan (notice a theme here – but open-concept is actually rare in Craftsman homes) and the separate guest space (functioned as a handy Airbnb) was another recipe for multiple-offer success. Another later summer listing, this home escalated $100K on the market.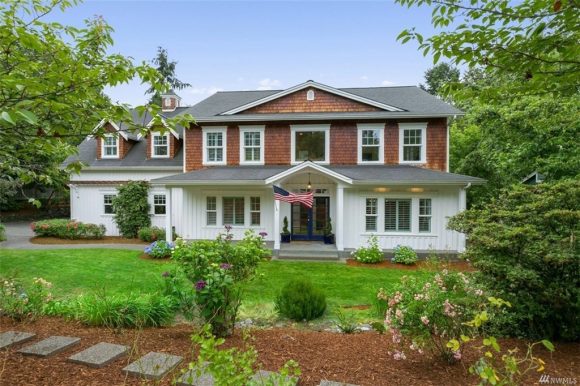 #5
Original List Price: $1,375,000
Sales Price: $1,530,000
Days on Market : 6
Date Sold: 7/31/20
Click here for more photos and the full listing
For Number 5 we stay in town, but head a bit south to the always popular Eakin Drive in the Midden Point Neighborhood. This neighborhood of finer homes is close to town, the waterfront trail actually loops through it and the homes share a private park and water access. This home was listed earlier in the summer and was one of the first homes to garner great attention. Listed at $1,375,000, I thought this home was already priced to include the many nice updates these sellers had done, on-point paint colors, light fixtures, wool carpet and they also created an Airbnb suite over their garage – yet even priced for those updates, this home still saw a generous $155K escalation.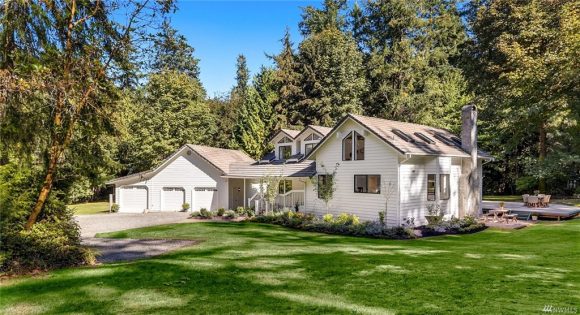 #4
Original List Price: $1,349,000
Sales Price: $1,625,000
Days on Market: 7
Date Sold: 11/23/20
Click here for more photos and the full listing
For Number 4 we head north again to Raccoon Lane near Wilkes Elementary School. The previous owners bought this home back in 2017 and at that time it was in pretty original 1989 style. However, over their three years of ownership they transformed this home into a true pastoral retreat. With finishes and details straight out of a magazine, the Hygge vibe of this home made many buyers swoon. Yep, I do love a white house, but personally I was more enchanted by the open 2.5 acre lot, gardens and rustic but charming barn. The storybook wallpaper, interior barn doors and brass fixtures combined with those rarer outdoor spaces indeed brought multiple buyers and multiple offers to the home. In later fall, this home sold for a whopping $276K over asking.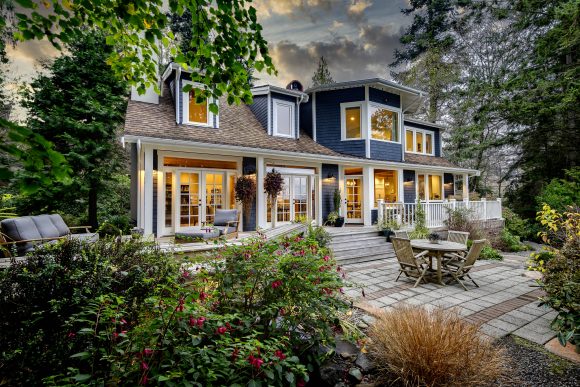 #3
Original List Price: $1,448,000
Sales Price: $1,590,000
Days on Market: 7
Date Sold: 1/27/20
Click here for more photos and the full listing
For Number 3 we head farther north to Sunrise Drive. This home is making its second appearance on my list. I helped my buyers purchase this home back in 2013 (so it is on my 2013 Top Ten list) and it was pretty special when they bought it, but they have amazing style and over the seven years that they lived on Sunrise Drive they truly transformed the home into something extra-special. Not planning to move so soon-ish, this home was remodeled with fine finishes and thoughtful details like a Lacanache Range, Visual Comfort light fixtures, marble counter-tops and a deluxe heated garage. This home also had a refined guest apartment, view of the Sound and private beach access. Personally, I really loved the dark blue exterior paint and green doors. Yes, you guessed it, multiple offers here too. This home was listed before Christmas in 2019, so before COVID rocked our world, but this home also saw multiple offers and a $142K price increase when it closed in late January 2020.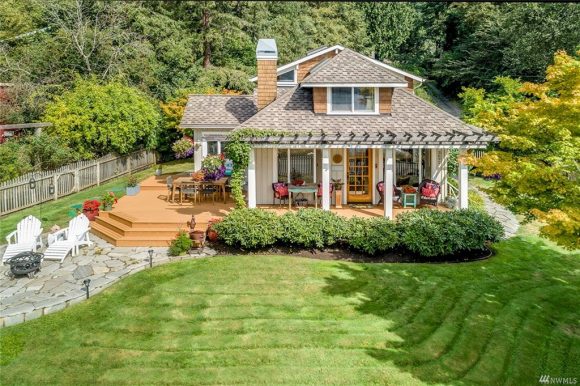 #2
Original List Price: $1,598,000
Sales Price: $1,750,000
Days on Market: 7
Date Sold: 9/25/20
Click here for more photos and the full listing
For Number 2 we head to the south end and Crystal Springs Drive. This jewel box waterfront home sits on scenic Crystal Springs Drive near the Point White Pier and it is truly one of those homes people drive and say "I want to live there." My clients lived in the home for 15 years and people would stop them in their front yard and tell them so. Originally built in the 1920's, my sellers put their heart and soul into restoring the home to add the modern fixtures we all want and need, while still keeping the original charm. The original hemlock floors, wood ceilings, staircase and fireplace mantle were kept in place around the remodel. A home in this location on popular Crystal Springs Drive with a waterside deck does not come up on the market very often, so when we listed this home at the end of the summer we saw heavy showing traffic and six offers. In the end, the home closed for $152K over asking price.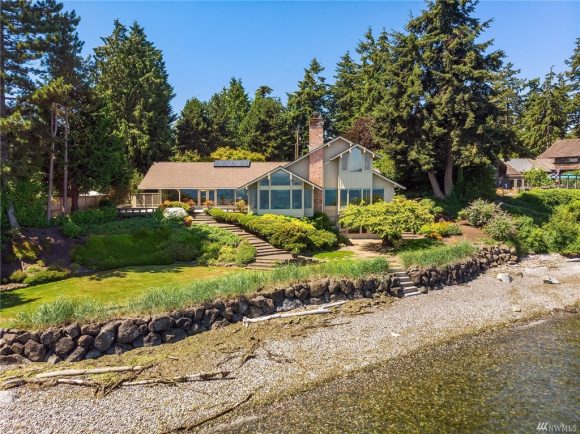 #1
Original List Price: $3,988,000
Sales Price: $3,988,000
Days on Market: 65
Date Sold: 9/2/20
Click here for more photos and the full listing
For Number 1 we loop back up to the Wing Point Neighborhood and this truly fantastic waterfront Mid-Modern Home. Although this is the only higher-end home on my list, the high-end did very well last year with 15 sales over $3M. I know at least one of those homes was purchased sight-unseen. This home is one that just stays with you after you have visited it, kind of like a good book you can't stop thinking about. The built-in office space perched on the third level of the home, which looks straight at downtown Seattle actually took my breath away when I came off the stairs. The open living spaces, modern kitchen, walls of windows, massive skylights, front courtyard, backyard deck and oh, yeah the beach made this a just-too-fabulous island package. This lingered on the market a bit but after a price adjustment, sold rather quickly, also in the fall.
Touring homes in person is indeed something I consider a perk and privilege and something I may have taken for granted a bit before 2020 when touring homes in person became challenging, different and impossible, in some cases. There will be some positive changes that come out of COVID like 3D Matterport Tours, more photos and floor plans becoming the new norm. But, nothing takes the place of walking through a home in person and getting a feel for the vibe, the soul of the home. This year four of my 22 buyers purchased their homes sight unseen. Flying was not an option for many buyers. I became their eyes and ears. Yes we did FaceTime, but after doing this for 15 years I know that there are elements of a home that even really good video or photos can not convey. Yes, I worry about those sales a little more, but they are only possible when I have a keen understanding of what the buyers are looking for – and to be able to be those eyes and ears for a buyer takes a relationship of understanding and trust. And for many of my buyers that relationship has started right here on my little blog. If you are thinking about a move to our island . . . reach out. Let's chat.
Click here to see all of my Top Ten Home Lists