A Cedar-Shingled Type of Year
The 2020 market is warming up after the hustle and bustle of the holidays and our most recent "snowstorm." As we get closer to February, it is always my cue to compose one of my favorite blog posts, the list of my top 10 homes on the island for 2019. Last year 376 homes sold on the island – down a bit from the busy 398 we saw sell in 2018. One thing that quickly surfaced on this list was days on market and sales price versus list price. Many of my recent lists have homes with short days on market and price escalations. This list shows many homes with a month or two of market time and a lesser sales price. This illustrates what I found to be true working day in and day out in the market. Last year sellers wanted to test/try-out prices. 2018 was so robust and it was fresh in seller's minds. But, the market was a touch cooler and the list illustrates this. We expect things to continue to head towards an even cooler, more balanced market. Although sellers are still very much in the driver's seat at this moment.
This is my 12th annual list. What?! (See all of my lists here) And again, these are homes that personally resonated with me when I toured them. Last year, while I was giving clients a tour and highlighting key houses we drove by my client pointed out to me that I really liked cedar-shingled homes. Huh? I actually had not overtly realized that. After she said that I did begin to see them in my marketing materials and on my top ten lists. So, right on cue, we actually start the list with this handsome cedar-shingled home for #10.
---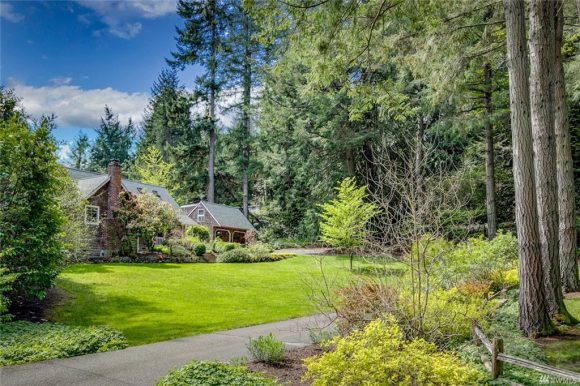 #10
Original List Price $885,000
Sale Price $930,000
Days on Market – 2
Date Sold 5/30/2019
Click here for more photos and the full listing detail.
For #10 we start on the popular south end of the island on a beautiful piece of property on Island Avenue. This charming home and property were a fun package. The historic home was built in 1914 with lots of warm wood and cozy spaces. I loved the south facing deck and bucolic feel of the shy-acre lot. The home also had a sweet guest studio over the garage. It was no surprise this very well-priced home and property saw a quick collection of multiple buyers and in just two days sold for almost $50K over the asking price in the busy selling month of May.
---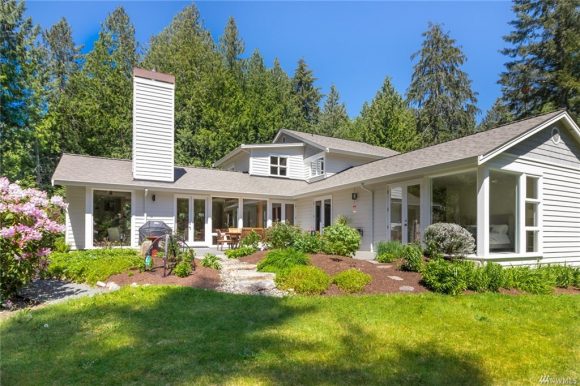 #9
Original List Price $1,348,000
Sale Price $1,298,000
Days on Market – 47
Date Sold 10/1/2019
Click here for more photos and the full listing detail.
For #9 we head north to Hidden Cove Estates and Sumanee Place. This handsome home and large property were a unique package for this neighborhood. The home had been impressively updated by Jefferson Fine Home Builders with a modern kitchen and spa-like master bath. The lot for this home was larger than most in the neighborhood at 1.67 acres and included an impressive sport court, fire pit area and lots of room to roam. Most of all, I liked the modern vibe the owners and builders were able to pull out of this originally, more traditional home. Well done! And after a month and a half on the market the sellers were able to command almost $1.3M for their home. A record sales price for the original phase of Hidden Cove Estates. And I predict we may see that number surpassed this year.
---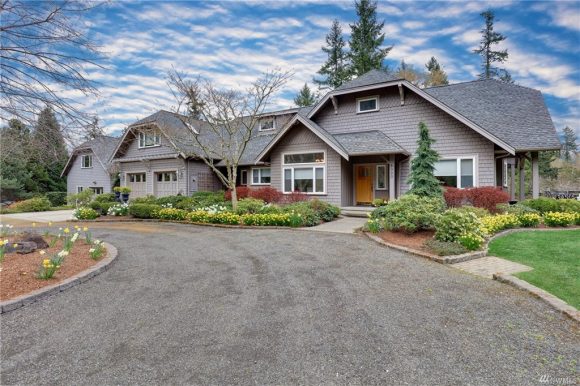 #8
Original List Price $1,300,000
Sale Price $1,250,000
Days on Market – 24
Date Sold 6/26/2019
Click here for more photos and the full listing detail.
For #8 we move to mid-island and Hansen Road. This home caught my eye for its very serene, neutral color palette and because most of the home is all on one level. I liked the feel of the separate wings, liked the impressive workshop space and the flat acreage that surrounded the home. This is one the I was surprised to see linger from 24 days, but in May/June it had a lot of similar competition and the price was a tad high as well. So, in the end, we did see this one close $50k under asking at the end of June.
---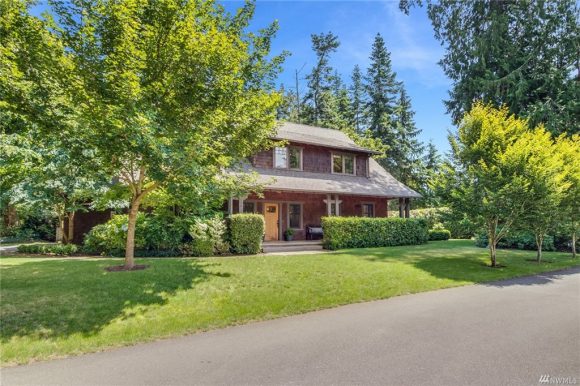 #7
Original List Price $1,218,000
Sale Price $1,125,000
Days on Market – 44
Date Sold 10/11/2019
Click here for more photos and the full listing detail.
For #7 we move into Wing Point for Irving Lane and another classic cedar-shingled home. I really loved the chef's kitchen in this home. I also loved the location in Wing Point, being central and close to Winslow and the ferry. The home has a European flair and I loved that the appliances and finishes were not cookie-cutter. The owners had custom built this home with quality builder Spellman Construction and their finer, more unique choices were fun to see.
---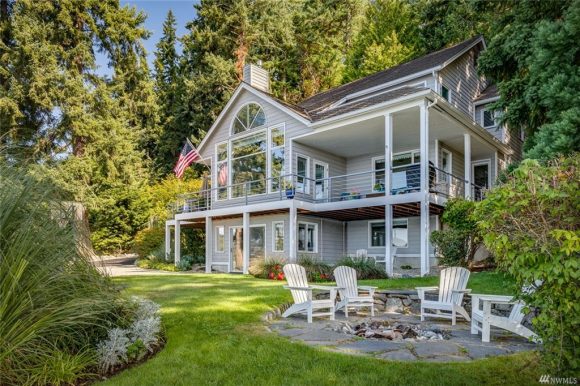 #6
Original List Price $1,598,000
Sale Price $1,544,000
Days on Market – 18
Date Sold 11/12/2019
Click here for more photos and the full listing detail.
For #6 we go back down south to sunny Crystal Springs. This larger home and guest house also had a rare water-side deck. Nicely updated throughout with vaulted ceilings and tall windows, this waterfront-package was a nice value, especially for it's desirable Crystal Springs location. Having a listing down here this year too, I realized I really, really love this area and the proximity to Lynwood Center, Pleasant Beach Village and the trails of Fort Ward Park and Gazzam Lake. And the Crystal Springs, Baker Hill, Point White Loop are a popular walking/jogging destination in and of itself. I know the new owners from California are really going to love the sun they will soak up in their new home.
---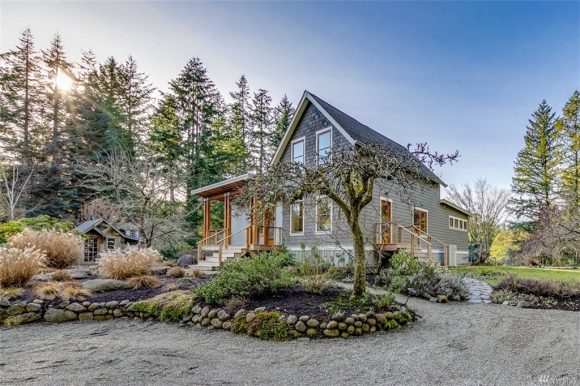 #5
Original List Price $1,445,000
Sale Price $1,545,000
Days on Market – 6
Date Sold 4/12/2019
Click here for more photos and the full listing detail.
For #5 we go back mid-island to Two Creeks Road. This listing came on early in the selling season and caught the eye of many anxious buyers. The popular, fun modern farmhouse style of this home plus a sweet guest cottage on the water was more than appealing. This waterfront is bay-front, which does mud at low tide, but the land/acreage is large, flat and sunny. This property/package checked many boxes for a lot of buyers. And for that reason, I was not surprised to see the multiple offers and hearty $100K price escalation.
---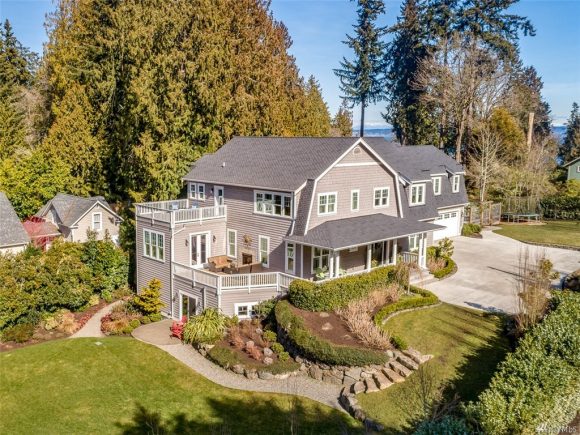 #4
Original List Price $1,750,000
Sale Price $1,800,000
Days on Market – 1
Date Sold 4/5/2019
Click here for more photos and the full listing detail.
For #4 we go north to the popular Port Madison Neighborhood. This was my first listing of the year and I had helped my buyers purchase this brand new view home from the builder back in 2013. I do love a Dutch Colonial home and this pretty one is perched high atop Port Madison to take advantage of the water views. With this home you have a wonderful and rare combination of a newer home built within an older, developed, well-loved neighborhood. My sellers really made this house a home during their ownership. They did amazing landscape and hardscape work and dialed in all of the finishes in the home plus added a hot tub, extra decking and an amazing fenced garden area. I really love that this home has five outdoor deck/patio spaces. A wonderful home that sold on the first day for $50K over asking price.
---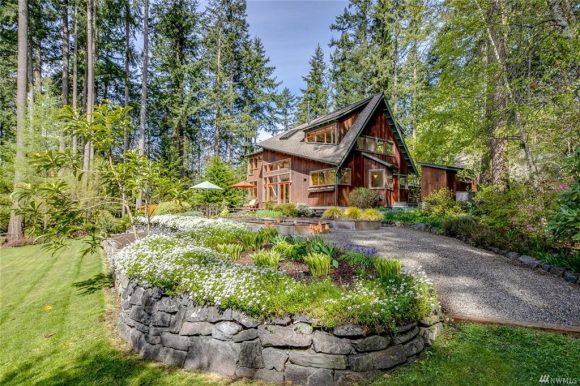 #3
Original List Price $1,348,000
Sale Price $1,348,000
Days on Market – 7
Date Sold 6/11/2019
Click here for more photos and the full listing detail.
For #3 we go farther north to Dolphin Drive. I think this home best defines my favorite architectural style. Modern style, clean lines – really a true Northwest Contemporary home. Architecturally designed and built, this home is sited facing south on lovely flat acreage and has its own guest cottage. Inside the main home the spaces are refined and practical. Lovely but not fussy or complicated. This home had a great vibe and lots of soul. As a gardener, I especially loved the sunny two acres. Had this home been central or on the south end I certainly would have made a play for it. This custom home with a guest cottage/legal ADU on over two acres at $1,348,000 speaks to the values you can find on the north end of the island where traffic and north end highway access can be tricky. Location, location.
---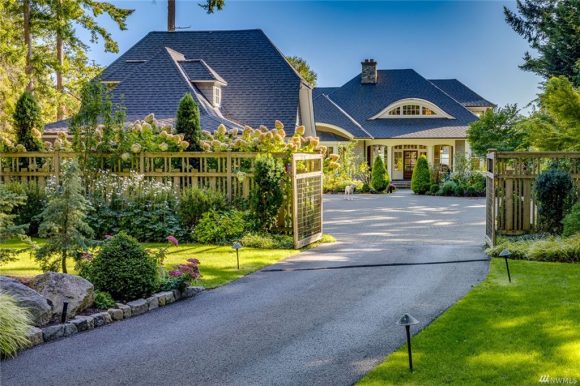 #2
Original List Price $3,678,000
Sale Price $3,678,000
Days on Market – 6
Date Sold 11/22/2019
Click here for more photos and the full listing detail.
For #2 we head south to the island's coveted Gold Coast – Pleasant Beach – for this low bank waterfront home. When my family first explored the island back in 2004, we rented a house a few doors down from this home. It makes sense that we fell head over heels for the island after experiencing this special spot. This home and guest home were designed by local architect Roger Katz and built by local builder Jim Hobbs in 2012. A dream team that really thinks things through and spares no expense. A private low-bank waterfront acre facing south with a home built in the classic/traditional, timeless style that appeals to so many did catch the attention of those buyers who could afford the over $3M price-tag. This one was a fun one to see simply because homes on this drive rarely come up. Roger Katz got many things right on this one, like the kitchen and family room that soak out the sun and views and the private guest cottage that is a special home in and of itself. No surprise that even at this higher price point, this home sold for full price in six days, even at the very end of the selling season in October.
---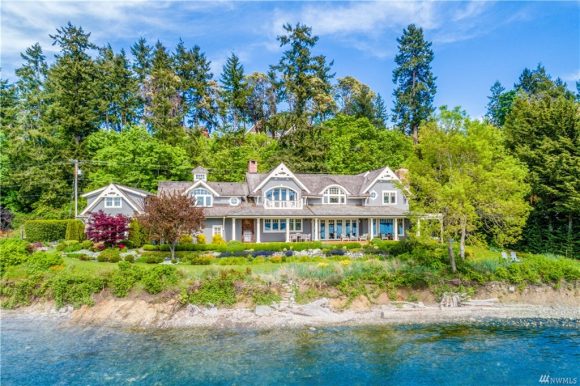 #1
Original List Price $3,498,000
Sale Price $3,600,000
Days on Market – 5
Date Sold 6/5/2019
Click here for more photos and the full listing detail.
For #1 we go even farther south to the sunniest part of the island – South Beach. This was my Mother's Day Weekend listing for this year. My sellers wanted their gardens to be in full bloom and the flowers popped open the week before Mother's Day. I sold this home to my clients (off market) in 2016 and it was built by local fine home builder Jerry Reese Construction in 2008. Sitting on over half an acre of low bank southwest facing waterfront, this home is known locally as the "fish house" because the builder added cut-outs of fish under the eaves that cast shadows on the home. A very cool, hard to notice feature, unless you stop and look. And since this one is so pretty, many people did stop and look. The kitchen in this home is essentially THE kitchen to end all kitchens. Kind of like, you had me at the kitchen. The media room, divine master suite, and guest house are not bad either. Hands-down, this guest house really is the nicest guest house I have seen on the island. I would be more than just content to live in the guest house. So, on Mother's Day weekend last year more than one person flew in to see this special home and it sold after only six days on the market for more than $100,000 over asking price.
---
Touring homes is a fun part of my job and I consider it a true privilege to take a peek inside so many cool homes. To get a feel for the homes I personally enjoy touring and see all twelve of my top ten lists in one place, click here. This is also a great way to get a feel for the beautiful and unique homes on our island.
I am anxious to see how the big 2020 year unfolds and I can't wait to seem more unique homes. And of course lots and lots of charming cedar-shingled homes too. I look forward to seeing you out there.
Listing photos courtesy of NWMLS.