Happy New Year!
The 2019 market is starting to wake up after its short winter rest, which is always my cue to compose one of my favorite blog posts, the list of my top 10 homes on the island for 2018. Last year 398 homes sold on the island – down a bit from the busy 439 we saw sell in 2017, but up from 369 in 2016. 2018 was my best year yet in real estate, so it indeed felt busy in my world.
This is my 11th list (see all the lists here) and again, these are homes that resonated with me personally when I toured them last year. I am not one to live in or love a cookie-cutter home, so charm and even quirkiness get my attention. In 2018 we continued to see spec-built homes come onto our market. As DR Horton sold out, two other neighborhoods took their place, including one by Quadrant who has entered into our Bainbridge Market for the first time. For now, let's take a tour around the island and through the selling season of last year.
#10
Original List Price $710,000
Sale Price $720,000 (multiple offers)
Days on Market – 6
Date Sold 6/1/2018
Click here for more photos and the full listing detail.
For #10 we start mid-island on a beautiful piece of property on Island Center Road. This home and property were a fabulous package. The home is cozy at just under 1600 square feet and colorful with warm wood and beautiful, practical built-ins. I loved the barn door too. High quality materials were used throughout the home, which overlooked a bucolic two-acre property with tucked off a main road. I am a big fan of metal garden artwork and this property had a nice collection mixed in the gardens and fruit trees. The home also had a sweet guest space over the garage. It was no surprise this well-priced home and property, all abloom in June, saw multiple offers.
#9
Original List Price $825,000
Sale Price $865,000 (multiple offers)
Days on Market – 7
Date Sold 5/25/2018
Click here for more photos and the full listing detail.
For #9 we move east to a view home on Manitou Beach Drive. This is another cozy home, but with a completely different vibe. This older home built in 1920 and just under 1900 square feet was the cozy beach cottage many buyers were looking for last summer. Off Murden Cove, this home has nice views of the water plus a charming yard and garden too. Nice updates were done through the home over the years, but the original charm remained. Many of the homes in the Murden Cove area have views, but are also walkable to the popular Rolling Bay hub, a nice combination that makes it a popular choice for buyers. Again, I was not surprised to see this sweet cottage receive multiple offers last May.
#8
Original List Price $850,000
Sale Price $900,000
Days on Market – 2
Date Sold 3/7/2018
Click here for more photos and the full listing detail.
For #8 we stay mid-island and move a bit west to a modern home on a large lot on Cherry Orchard Lane. This home sold twice in one year, but the last sellers made some nice changes, including paint inside and out. This is a rare larger, cleared, flat lot, close-in to town. The property also connected to Strawberry Hill Park. Custom-built, the home has a bit of a modern flair, an open floorplan and a main-floor master. I really like Cherry Orchard Lane, as it is one of the first streets as you head out of town where you begin to see larger parcels like this one at over two acres. Smaller homes (2,100 square feet) on large lots are also rare. Built in 2010, this newer, custom-built home sold for $50K over asking the first weekend it was on the market.
#7
Original List Price $1,098,000
Sale Price $1,100,000
Days on Market – 6
Date Sold 3/8/2018
Click here for more photos and the full listing detail.
Staying central we move east again for #7 to this charming cedar-shingled home on Ferncliff Avenue. I listed this home last winter and this is such an easy home to live in and love. My clients were so sad that they outgrew this home as the charm and high quality craftsmanship spilt out from each and every corner. Solid wood doors, box-beam ceilings, a clawfoot tub. This home is also close to the ferry, across the street from beach access and has peak-a-boo views of the Sound. I fell for this kitchen, with a built-in breakfast booth, apron sink, large island and TWO pantries. Like I said, this was a home that was easy to live in and love and hard for my clients to leave – although they indeed moved into a another very sweet home. This homes sold for above full price last March.
#6
Original List Price $1,198,000
Sale Price $1,198,000
Days on Market – 83
Date Sold 5/22/2018
Click here for more photos and the full listing detail.
Mid-island is the theme for this list as we move closer into the Wing Point Neighborhood for #6. This is another cedar-shingled home, but of a completely different style. This homes was designed by local architect Jim Cutler. This three-level home has walls of windows and sits right on the Wing Point Golf Course. I like how they used half walls to unify the spaces. The unique style and high-end finishes set this home apart from the more traditional homes in this neighborhood. I also loved that it appears to be floating above the golf course and neighboring pond and it is also tucked off the main road. But what I loved the most were the multiple decks around the house off the main living spaces – throughout the day you could enjoy eastern and western sun. This home sold for full price last May.
#5
Original List Price $1,498,000
Sale Price $1,550,000 (multiple offers)
Days on Market – 6
Date Sold 5/31/2018
Click here for more photos and the full listing detail.
Now for #5 we move north and west to the lovely home on Setting Sun Lane. This home was built by one of my favorite builders, Rick Debarros. I believe this was the last home Rick built on the island before he retired and moved out of state. His construction was high quality, the finish choices are timeless and the floorplans he built were spot on for practicality with a nice balance between wide open spaces and separate rooms. He understood the need for mud-rooms (especial in the PNW), large laundry rooms and bonus rooms. The home sits on a large one-acre west-facing lot right across the street from popular Battlepoint Park. This home resonated with many buyers last spring and saw multiple offers in May.
#4
Original List Price $1,575,000
Sale Price $1,605,000
Days on Market – 3
Date Sold 6/1/2018
Click here for more photos and the full listing detail.
We quickly move back closer to town with this view home coming in at #4 on Edgecombe Lane. This home was a terrific package. It was remodeled by Smallwood Construction in 2011 and very well done. The home and property have an estate-like feel with a gorgeous front yard with views on the Sound and Seattle and a park-like lawn in the back yard. Across the street, the neighborhood shares private beach access. Inside the home were a nice balance of rooms with tall vaulted ceilings and smaller rooms with warm wood built-ins and a cozy feel. Many view homes orient one direction, but the fabulous thing about this home was the yard and setting were striking all around the home. One lucky buyer snapped this home up the first weekend with an over-asking offer.
#3
Original List Price $1,950,000
Sale Price $1,885,000
Days on Market – 46
Date Sold 11/30/2018
Click here for more photos and the full listing detail.
For #3 we move about as far north as you can go to Gordon Drive. This home is another wonderful package. Waterfront, dock, acreage, plus a charming, modern home with fun hobby spaces. This north-end beach house has a lot of what waterfront buyers are looking for. Many waterfront homes are on small lots. The privacy here with a large enough lot to garden and have fruit trees is hard to find. This waterfront home on 200 bulkheaded feet also has a dock. Inside, I loved the impressive front door, all-glass entry hall, and exposed beams throughout. The one-level home originally built in 1939 had been added onto nicely by the current, longtime owners. Some lucky buyers have moved into a classic, impressive Bainbridge Package.
#2
Original List Price $1,950,000
Sale Price $1,950,000
Days on Market – 8
Date Sold 8/17/2018
Click here for more photos and the full listing detail.
Bouncing back to mid-island again we find ourselves on Fletcher Landing for #2. Fletcher Landing is a bit of a hidden gem on the island. Tucked in off the open water, the bay here is tranquil, easy water to live on and play on. I loved the mid-modern vibe of this house and the location on the bay sites it well for impressive Olympic Mountain Views. Another home with a dock, and additional hobby/studio spaces. The sleek, modern kitchen overlooks the water and the large, covered deck is fantastic to enjoy the outdoors all year round. The front court-yard gives the homes a special, private feel as you enter. I was not surprised his home did not last long on the market, seeing a full-price offer the first week.
#1
Original List Price $2,300,000
Sale Price $2,100,000
Days on Market – 17
Date Sold 12/10/2018
Click here for more photos and the full listing detail.
The south-end makes a rare appearance for #1 as we head into the gated community of Country Club Road for the coveted top spot. It is rare when one of the 18 homes comes on the market in the Seattle County Club Neighborhood on Bainbridge Island. So, when they do, most agents, including myself, make sure we go tour them. They are always a visual feast. This home had never been on the market before and much of it was in original 1914 condition. This 6,200 square foot home has an amazing view due-south off Restoration Point. Architect Carl Gould (founder of the Architecture School at the University of Washington) knew what he was doing when he sited this home to take advantage of southern sun, Rich Passage and Mt. Rainer views. The home itself has amazing period details like a butler's kitchen/pantry, massive amounts of clear grain fir trim, clawfoot tubs, and grand decks, both covered and uncovered, overlooking the impressive open waters and rustic beach down below. Walking through the home this is certainly one where you wished the walls could talk. I am sure this home saw some superb summer parties in its day. This home, which requires county club approval, and currently has dues of $1,800 a month sold for $2.1M after 17 days on the market.
Below is a mapping of the homes on my list. We seemed to have very little activity on the south-end last year and much more central and north – my list seems to express that.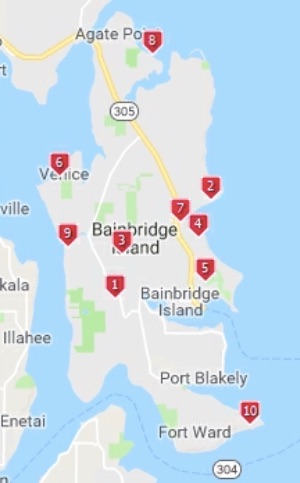 I consider it an honor and privledge to tour so many unique and special homes. To get a feel of the homes I personally enjoy touring and see all eleven of my annual lists in one place, click here. Have a fun virtual tour of beautiful homes on our island.
It will be interesting to see how the 2019 market unfolds. Here's to more, charming and unique homes. I look forward to seeing you out there.