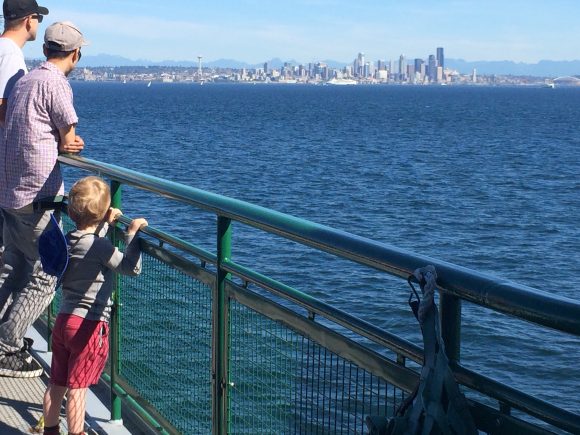 1. It is truly an island
Yes, there is a bridge to Poulsbo and beyond, but the Sound between here and Seattle is a perfect buffer to the action of the big city.
2. The low crime rate
I know we are not isolated from bad things or bad people, but I can breathe a little sigh of relief when I step off the ferry. The statistics speak for themselves. 
3. The great Bainbridge Island School District
We go back and forth with Mercer Island for the top spot in the state. However, as a former teacher, I know test scores are not everything. I love the small school my daughter attends. I love the feeling of the school, the kindness of the staff. The small size ensures that my daughter won't get caught in any cracks and I love that Judy, the school secretary knows the names of everyone in our family!
4. Islandmoms Facebook
This group is awesome. It is a wonderful support community. If you are looking for a recommendation for a painter or doctor, this is the place to go. For feedback and advice on anything island, this is the message board to read and write on. If you are looking to borrow snow boots or a costume for your child, a total stranger will probably let you borrow them. It is great!
5. The Treehouse Café
They have the best Cesar salad and our family loves eating pizza on the couches in the restaurant.
6. Blackbird Bakery
An island institution. I just like knowing it is there. I am not too hip on their sweet stuff (my youngest daughter is though) or coffee, I actually like their loaves of wheat bread.
7. Dancing Paint Ceramic Studio
A great spot to spend an hour or two on a rainy or sunny day. It is a beautiful, light filled studio in downtown Winslow. You and/or your kids will love the creative outlet . . . and you thought you had enough coffee mugs, never! )now closed :(
8. The Bainbridge Island Public Library
Carmen the children's librarian does a top-notch job with storytime. My preschooler loves to listen to her read and act out stories! Pierre the French Mouse is pretty cute too.
9. Sawan Thai Kitchen
Green Curry Chicken, yumm. Three-Star Spicy is spicy enough for me!
10. Bainbridge Performing Arts Theatre
Folks from Seattle ferry over to see our plays . . . and folks from Seattle come over to be in the plays too. They offer a great theatre program for kids too. My daughter loved the camp she was in last summer.