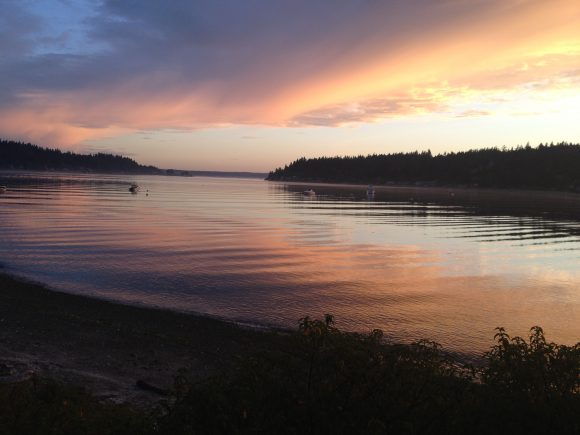 Well, if you've read some of my previous posts, I guess it is becoming obvious that I like to eat out. I guess it goes along with the kitchen remodel we are finishing up.
The other night four women from my neighborhood and myself went to Edna's Beach Cafe for a "mom's night out" dinner. One of the women reserved the square table in the library dining room (no kids), near the window. The room is very warm and cozy, with the fireplace, and I would say fancy. Now, walking into the restaurant, to the right, is a family room, with a completely different feel, open and bright with vaulted ceilings, a perfect spot to take the kids.
Back in the library dining room, we were able to drink wine and chat in a quiet, cozy setting. Most of us had salads and appetizers for dinner. The salads were modern and artful. The Cesar Salad I had came with a large sheet of toasted parmesan cheese, which was quite tasty, and I am always a big fan of the homemade croutons – they were delightful . The butter lettuce salad that my friend ordered was half of a head of lettuce with blue cheese dressing and grape tomatoes – it looked very different and creative. In addition to the Cesar Salad, I also had the Spicy Black Tiger Shrimp appetizer. The sauce was very spicy, as titled – and buttery, a nice combination. The eight or so shrimp I had, with the salad, made for a nice light dinner.
Our waiter was very friendly and charming and his service was good. However, being a new restaurant, we did experience a few hiccups, the main being that the service slowed way down after we got our salads. And, then again, when we were trying to pay, due to some computer problems. This slower service was not really a big deal for a group of mom's on a night out, but for a family, with small kids, it could be a real issue – I know that when my kids are done eating, they are done and ready to go home. Also, one of the diners at my table was disappointed that they were not offering specials. But, since the restaurant just started serving lunch, I can understand not wanting to bite off more than they can chew (bad pun) – which was the waiters explanation for no specials.
On the whole it was pretty good, some of the women at my table had already been to the restaurant and I think everyone was planning to return. Overall, I am hopeful that they will work out the kinks and Bainbridge Island will have a great dining destination, for both adults wanting a quiet dinner and for families wanting a fun night out.
Update: Edna's Beach Cafe is now closed.