Spring Arrives on the Heels of a Healthy Quarter
Things Are Looking Up. Way Up.
Over the first three months of 2008, 34 homes sold on Bainbridge Island. The next year, 37 sold in the first quarter. By 2012, first-quarter sales rose to 55. How many this year? Eighty. That is 45% higher than last year (which we felt was pretty good at the time). The last time we experienced this amount of volume was in 2005, when we sold 87 homes in the first three months. Condominiums bottomed out in 2009 with five first-quarter sales, and we almost tripled that number with 14 this year.
So are we done? Are we through with the great real estate correction of 2007, 2008, 2009? On the surface, one would surmise this (as confidently as one could after the correction that pretty much obliterated our ability to predict upcoming trends), but it really hasn't settled in across the board. If we are done, why has the average price of homes sold for the first three months dropped 21%? Even the median price, which is less volatile, has retreated. What gives?
A Slower High End
Our home sales over $1 million have struggled, and those sales have a tremendous impact on our statistics. We sold 12 homes over $1 million in the first three months of 2012, four of which sold for more than $1.5 million. This year, we are at seven sales, only one over $1.5 million. It is difficult to say with authority why one segment of the market might be struggling, but we can say it is at least partially due to low inventory. There are currently 26 homes listed above $1 million (four of which are under contract to be sold). Last year there were 51 listings on April 15, of which 15 were under contract. In 2007, there were 71 listings in mid-April. As it often happens, when the inventory gets low, buyers wait.
The Links Between Sellers, Inventory and Sales
In truth, our numbers might have been even better as our general inventory has been at historic lows all quarter. Where are the sellers? There are a number of reasons for sellers to wait and they usually revolve around price. However, new listings have fared very well in recent months. We saw 131 homes come on the market in the first quarter and only six have been withdrawn. Of the rest, only 44 remain on the market (24% have already closed and 51 are under contract)! If you look at the stat sheet, you see that the distribution is much more balanced along the price ranges (except for the over $1M) than in the past number of years. Even the $800-$1M segment has surged with 13 homes under contract at the time of this writing.
What About Prices
This is a very difficult question to answer with statistics, and needs to be viewed from "indicators" versus hard numbers. Different parts of the market are experiencing different pressures on prices. One indicator is price-per-foot within a price range. In the up-to-$500K range, the average price per foot has increased from $186/ft. in the 1st quarter 2010 to $207/ft. this year. From $400K-$800K, the trend is less conclusive, from $198/ft. in 2010 to $203/ft. this year. One might conclude that the higher the price, the less the appreciation (if any). Other indicators of an upward movement are that fewer deals are failing, there are more multiple offers and homes new to the market are selling. Together, these signs point more to a sellers' market (which is accompanied by rising prices). All that being said, it will be a long road before we see prices close to our 2007 peak.
Builder Confidence
Another bright spot is land. We have seen 10 sales this year versus just five last year. All but one was less than $400,000. Building permits issued are up 48% from last year! Developers are still very cautious. Financing for speculative houses is extremely tough (you might say almost non-existent). At current price levels, there is considerable risk to re-coup costs (to say nothing of making a profit). Nevertheless, builders are more confident and active.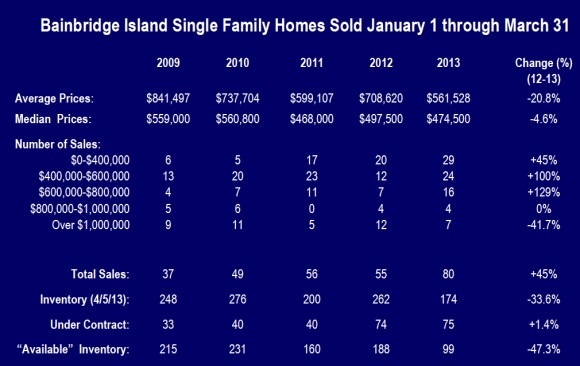 An All-Around Good Start to the Year
Even with our lower inventory, one has to view our first quarter as a success. Other than properties priced over $1 million, the market has been brisk and generally balanced. We are seeing an influx of new people to the island (last year 55% of all buyers came from off-island) in all price ranges, which improves our diversity. And in all honesty, we cannot see too many clouds on the (at least short-term) horizon! Blossoms are here and even the sun is showing its face. Without a doubt, Bainbridge is one the best places in the world to enjoy the spring!