By Peter Brachvogel, AIA, BC& J Architecture, Planning & Management
What are They and Why are They So Important?
The Growth Management Act of the early 1990's set forth a number of requirements for incorporated municipalities. One very specific mandate was the encouragement of density increases in populated areas within municipally incorporated boundaries.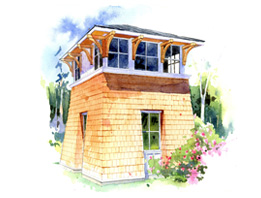 One such manner in which to increase housing density with very little negative impact is the inclusion of Accessory Dwelling Units or ADU's. These modest buildings are typically adjacent to a main house and may be constructed on properties that accommodate water, septic and typical building system demands. These buildings typically range in sizes prescribed by local zoning ordinance. On Bainbridge Island this size may not exceed 900 square feet. In Kitsap County and now in Seattle the maximum size is slightly larger at 1,000 square feet.
Sustainable by Design
These modest buildings are generally sustainable due primarily to the nature of their modest size and integrated fit within an existing built context. Additional sustainability measures may be incorporated such as heat recovery air exchange systems. Solar applications for both electricity and hot water and specifications for recycled building materials. Small houses offer a variety of dwelling choices for people who do not desire or can not afford larger housing.
Many of the ADU's that have been built on Bainbridge Island over the past decade have been above garage units. These spaces have been used in a number of ways including teenager hang­outs, in-home offices and guest houses. For those property owners who desire to age-in-place as many baby boomers are, these buildings can be occupied by a caretaker when the kids have moved on providing de-facto housing or as an alternative,extra income through rental.
Micro-Community, Compounds, Options Abound
If a property is large enough and there are funds available, the simple concept of a house on an acre can evolve into a main house, ADU, separate carriage house and other support buildings. This collection of buildings located properly on the land fosters a sense of place and micro-community. A compound of buildings then sets the stage for multi­-generational use of a property. Multi-generational use of a property is important for connectivity of family history and origin. Many of the most compelling locations throughout the world have been based on this type of living pattern. Only in the last 100 years and primarily in the U.S. has this pattern been significantly eroded.
As ADU's are typically located on a contiguous piece of property, individual ownership becomes difficult. In some circumstances this has been solved by converting the ownership of the property into an LLC. Conversion allows another party to purchase shares of the LLC that equate a prorated value of the property. Separate ADU's suit a variety of demographic groups including newlyweds, young professionals, empty nesters, retirees, and are a very flexible, valuable and enduring component to the fabric of a neighborhood and can be included in any project planning.
Additionally, allowing ADU's is one way that communities can provide more affordable housing opportunities without the necessity of local government expenditures or subsidies.