Even though we are a stone's throw from the big Mermaid herself (yes, I mean Starbuck's), Bainbridge Island only has one – and it is in our Safeway, which, as you can imagine, lacks any sort of coffee house vibe.
Thankfully, we are well taken care of with other charming coffee shops/bakeries.
Here are my top three: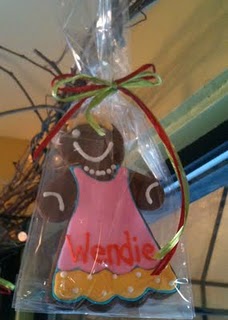 One of Blackbird's holiday creations, personalized Gingerbread People!
Why?
Location and a great latte. I think they make the best non-fat latte around. Either they use some really great milk or it is not really non-fat at all. Either way I am happy when I am sipping it out of their cool mugs. I love being able to get my coffee, sit at the bar facing the street and people watch. Or, I take my coffee and go the post office, grocery store, bank, book store, etc. – all on foot! Being in the heart of Winslow makes it my very favorite. Also, my kids love their creative cookies and their t-shirts!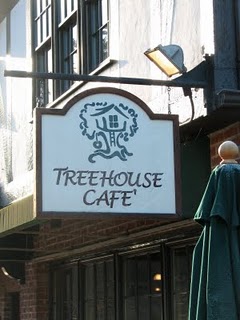 The new outdoor seating area at The Treehouse Cafe'.
When it is not 20 degrees outside, like it was today,
there will be many people enjoying this spot.
Why? Great ambience, close to Lytle Beach, and yummy hot chocolate. The Treehouse Cafe' is on the south end of the island, so it is out of my errand running zone, but it is close to my kids' school. I usually hit Treehouse on my way to or from Fort Ward State Park or Lytle Beach. Last weekend my kids and I needed to get outside, so we went for a a very chilly walk out at Fort Ward. Afterwards, we warmed up with their hot chocolate topped with real whip cream, the best. I'm looking forward to using their new outdoor seating area this summer (they are expanding because they are so loved and so successful). Their pizza is awesome too, especially while dining at their leather couch!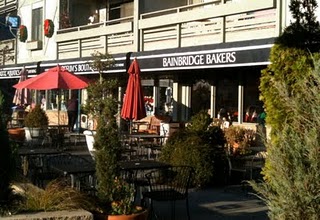 And yes, more outdoor seating, it is all about the sun in the Pacific Northwest.
And, when it is cold or rainy, they have a great amount of indoor seating too.
Why? Free wi-fi, lots of seating, and good baguettes. This is where I work when I need a break from the office and with their ample indoor and outdoor seating you always have a good shot at getting a spot. Their location in The Winslow Green on the west end of Winslow Way is still close to everything and parking is easy.
There are several more good coffee shops on the isalnd, but for the reasons just mentioned, you are most likely to find me at one of the above havens – especially when it is so very cold outside.
update – Bainbridge Bakers is now closed, The Good Egg is in it's place