Fresh Vegetables
I love this time of year because fresh vegetables are so easy to buy locally. We have been frequent shoppers at the Bainbridge Farmer's Market in Winslow since we moved here, but this year we decided to join a local CSA (Community Sponsored Agriculture) program.  There are several good ones, but for selection and a convenient pick-up location on Bainbridge, I chose Persephone Farm based out of Indianola.  Perspehone has a membership dinner at the beginning of summer to explain the program and tour the 13 acre farm where the food is grown. A great idea, especially since it is a beautiful sunny location, as you can imagine.  Plus, members are free to visit and picnic on the farm throughout the season. I love any good reason to visit the neighboring town of Indianola.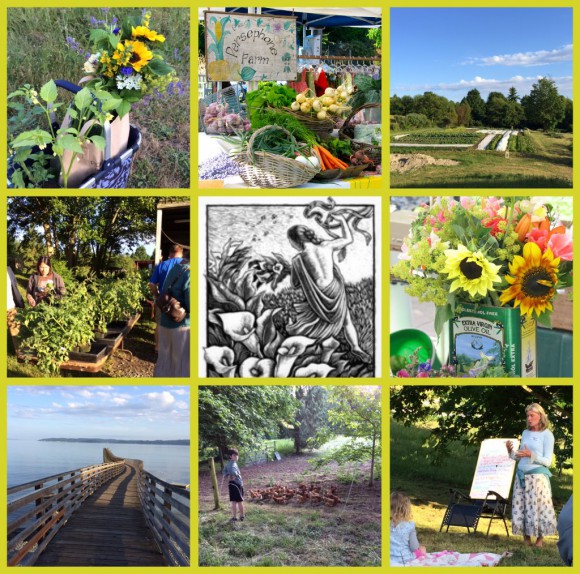 How They Work
Most CSA's work on a 'share' program.  Our family of four bought one full farm share for $650 for the 2014 June-October season.  For the full share you get a box of vegetables each week and a bouquet of flowers.  Last week our box included lettuce, basil, garlic, shelling peas, carrots and the flowers. The variety varies every week as the growing season evolves. For smaller families you can purchase a half share.  Persephone also offers shares for eggs, cheese, bread and fish.
More to Choose From
Persephone is not the only CSA in town.  Locally there are other active and local CSA options including:
Butler Green Farms, Farm House Organics, FoxDog Farm, and Heyday Farm.  A great way to test-drive the farms is to shop their produce at the Bainbridge Farmer's Market and at the market you can also inquire about their current CSA share availability.
Read On
To read about other farm fresh shopping and eating-out options on the island visit my blog posts on those topics:
Local Eats on the Island and Do I Have to Leave the Island to Shop for Groceries?