Getting Warmer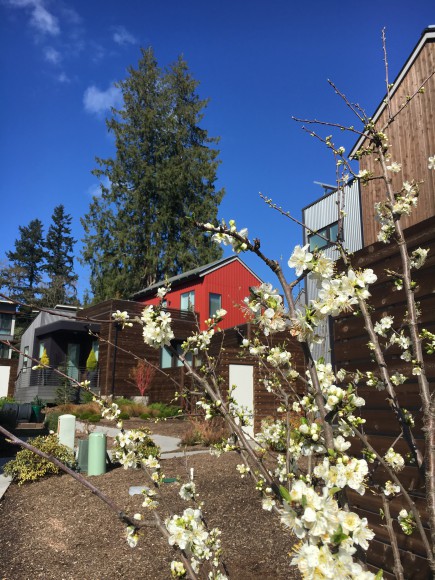 Winter Dormancy
In many ways, the first quarter of 2017 reflected the past two years of the Bainbridge Island real estate market and, for that matter, the markets of most of the neighborhoods around us. Seasonably low inventories limit buyers' choices early in every year. Meanwhile, inclement weather (which we believe had a greater than normal influence this year) tends to dampen the enthusiasm of sellers getting homes ready as well as buyers who would rather stay in than venture out to go look at properties. Finally, there's a perception that the market doesn't really "begin" until spring. These factors all conspire year after year to make the first quarter the quietest.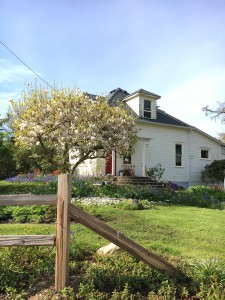 A Snapshot of Activity
Looking back to 2016, there were 72 residential transactions (defined as both homes and condominiums) in the first quarter, compared to 129 in the second quarter, 156 in the third and even 117 in the fourth (also perceived as a slow quarter). So we were prepared for the "slow time" this year. We hoped for more inventory because we knew there was demand. As it turned out, in spite of the weather, we got a little bit of what we wanted. We had 83 residential home and condominium sales in the first quarter of 2017, up 15% from last year's 72. It should not be a surprise that our active inventory (homes not under contract) was up 29% from last year when measured on February 2nd. In a sellers' market, inventory is the fuel that pushes the machine (as opposed to buyers being the fuel in a market they control). But there's a footnote to these numbers: the condominium market had 27 sales – the best first quarter we've had since 2007 – and condominium sales were up 68.8% over last year's first quarter figures. If we set aside the increase in condominium sales, our first quarter sales were essentially flat.
Perception Versus Reality
The media has painted a pretty rosy picture of our market for sellers: just put up a for-sale sign, set any price you want and wait for multiple offers to roll in! In reality, while a strong market can make it easier to sell a home, there are certain goals that need to be in a seller's mind regardless of the market.
The first is to sell the home within an acceptable timeframe. On the chart below, you'll see the "active" inventory (homes that haven't sold) is higher than it's been since 2013. Also, even if you have an interested buyer, it doesn't necessarily mean that buyer will end up purchasing the home. This quarter, there were 16 "failed sales" or homes that fell out of contract, down from 37 last year. Sales fail for all sorts of reasons: buyer's remorse, which can come from price; realization of property condition; and reality checks are the most common. Also, getting the home sold in an acceptable timeframe is important to most sellers. In this past quarter, the average days on market was 71, up 22% from 2016! Yes, some homes sell right away, but they are usually the exception.
The second goal is to maximize the net yield to the seller. Condition, disclosures and presentation all affect buyer perception and price consideration. Buyers are smarter than ever, especially on Bainbridge. They usually conduct their own market research online and on foot and are often represented by professional agents. Now, as always, we need inventory for buyers to make choices. They will not just buy anything at any price, and their price ceilings are dictated by their perception of value. It's true there are some multiple offers, but only 29% of homes sold in the first quarter went for over asking price (which may be fewer than some people would think) and the percentage of the overage was a scant ~3%. The boom of 2007 was not that long ago and most buyers (and their agents) clearly remember the risks of overpaying.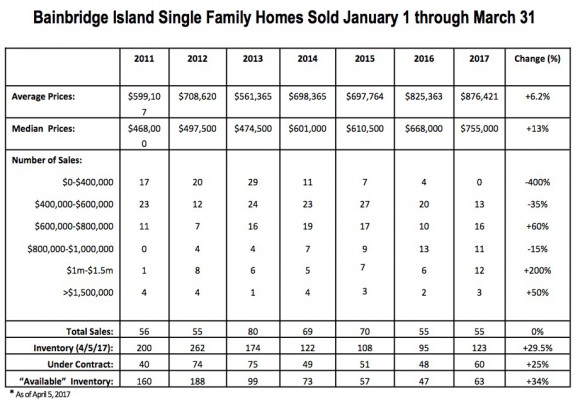 Closing Thoughts
Yes we're in a sellers' market, and yes there are multiple offers, and yes prices are rising. But Bainbridge is not Seattle; our market is smaller, less active and has a smaller (and, frankly, a bit smarter) buyer pool. To gain maximum benefit from this market, sellers should keep all this in mind (which is what professional real estate agents do). It's also important to consider the buyer's perspective, where there is another labyrinth to negotiate. About 40% of Bainbridge sellers end up on the other side of the table when they later become Bainbridge buyers, so they eventually experience the flip side of our market. Working with an experienced professional will help you achieve the best result and understand the many nuances, whichever role you occupy in the Island real estate market. So let's dive in together into this busy season. It's going to be an exciting ride.