A Wild Ride
We hope everyone has been holding on, because the past six months have been some of our wildest ever. Our inventory levels have continued to hover at around half of what is considered normal, so the year started slowly because buyers wanted more choices. In January and February, we closed fewer transactions than in previous years. But in March, things started to change as buyers got off the sidelines. By the end of June, even though our inventory levels remained at historically low levels (on July 1st of this year, there were only 58 active listings, compared to 121 in 2014, 189 in 2012, 261 in 2009 and 140 in 2006), we ended up with more sales in the first half (191 single family homes) than we've had in 10 years. And that includes the number of sales we had in the crazy days of 2006 (170 sales) and 2007 (184 sales).
Lightning Fast Sales
How could we close so many sales from such little inventory? Velocity. The median CDOM (Cumulative Days on Market) for the sold homes in the first half of 2015 was 16 days – a very fast turnaround between when homes came on the market and when they sold. The next "fastest" year was 2006 with a median of 47 days. In the dark year of 2008, median CDOM was 102 days.
Sometimes, this kind of velocity requires a crazy environment of multiple offers way above asking price (similar to what can happen in Seattle). Is that happening here? The answer is yes, we are getting some multiple offers but the number is usually more like two or three and often there is only one strong one. And the offers are not hundreds of thousands of dollars over asking price. Between January and June, selling prices averaged 98.5% of original asking prices. Only in one price range ($700K-$800K) did we see average selling prices more than 100% over asking and it was only at 100.8%. But the percentage of homes selling at or above asking price was very encouraging. The lowest average (32%) was in the $0-$500K range and, as expected, the highest was 73% for the $700-$800 range. The $500K-$700K range was 62% and the next highest was $1.1M+ at 55%. (In the case of $1.1M+, 45% of the listings did not achieve their asking price. But in that range, finessing prices is a skill that talented real estate agents hone, which is why it's always a good idea to work with experienced professionals.)
Speaking of Prices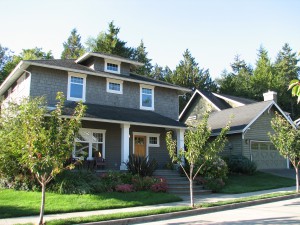 What is happening with prices? Overall, the median ($660K) is up a modest 8% over last year and is still behind 2007's $671,250. But we continue to recover from the 2008 "correction." We peaked in 2007, and bottomed out in 2011 at $515K, but have steadily improved with a 28.2% increase ever since (except for the anomaly year of 2013, when median dropped to $495K). When you look at the selling prices for individual homes from the period of 2001-2004 and compare them to selling prices from these past two quarters, there was an average increase of 153%. When you compare that to 2008-2012, prices have averaged an increase of 128%. This shows Bainbridge as a strong market with good long-term price appreciation and resiliency from "corrections."
Don't Listen to Gossip
Active markets spawn rumors and potential misperceptions. Be careful not to get caught up in those. No, our market is not flooded with foreign buyers. And no, you don't have to pay in cash to prevail in a multiple-offer scenario. Over the past four years (2011-2014), 43.75% of all buyers were Island people "moving around." In the first six months of this year, locals represented 49% of the buyers in the transactions in our office. Our office had one transaction involving a buyer from another country. Regarding cash offers, sellers do like them because they reduce the risk of transactions not closing and Bainbridge has always had a relatively large percentage of cash sales. However, so far this year, over 60% of our transactions have involved financing.
Condos and Land
Our condominium market has not enjoyed the success our residential market has experienced so far this year. Condo sales actually decreased 9.4% (with 48 closings this year, compared to 53 in 2014) and the median price has dropped from $374,500
last year to $345,500 this year. These decreases are primarily due to low inventory (there were 14 active condominium listings on July 1 compared to 22 on July 1, 2014), and last year there were a number of "upper end" sales. It's important to note that these numbers do not include Grow Village, which would help the numbers for this year if they were included.
Land, on the other hand, has had a very successful first half of 2015. Parcel sales are up 43.5% (with 33 closed this year, compared to 23 last year) and median prices are up a whopping 58.6%. With the recovery of existing home prices, builders and owners are once again consider- ing new construction because the cost differential between building and buying an existing home is not as wildly out of whack as it has been in the recent past. It is also an indication of confidence both in our general economic outlook and the strength of the Bainbridge market.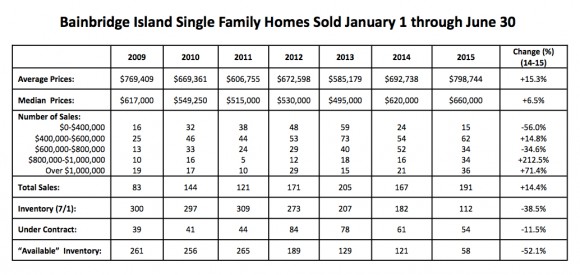 Showing Appreciation
The term "bubble" has been bantered about recently. After 2007, it is difficult to look at an appreciating market without some cynicism. We have little control over global events and their local effect. However, when you look at our regional health, our active market seems appropriate. One only has to drive around Seattle to come to a couple of realizations, both of which speak to the health of the Bainbridge market: First, with the activity and construction in Seattle, a lot of smart people believe the metro market will continue to grow. Second, that growth has created congestion, gridlock and crowds, which help reinforce the idea that Bain- bridge is a pleasant alternative. If you are going to make that monumental step of joining the market, there are few invest- ment options as safe and appealing as our island paradise.