With the arrival of the new year, we also welcome a fresh new start to our local Bainbridge Island real estate market. I had my busiest year on record and I am very thankful for the opportunity to work with such great, smart, interesting folks this year. The majority of my clients are island newcomers and I am so happy to welcome them to our island community. As an office, as we look back and tally the 2012 year-end statistics, we have reason to think that 2013 might look a bit brighter than its predecessor.
Putting Our Market in Historical Context
The number of Bainbridge Island's residential home sales peaked in 2004 with 468 sales. Our market's "correction" began in the 2nd quarter of 2007, yet we still managed to sell 332 homes that year. The trough came in 2008 with 188 sales, followed by steady (but not terribly exciting) improvements each year since. In 2012, we sold 386 homes, a spectacular increase of over 50% from 2011. This is great news on all fronts. Will this trend continue into 2013?
Assessing the 2012 Sales Figures
For the past five years, homes priced over $500,000 have really struggled. Our "middle market," between $500,000 and $1 million, is the truest barometer of the island's real estate health. This important segment went from a strong 212 sales in 2005 to only 93 sales in 2008 – a drop of 56% in three short years. In that same segment, our sales last year were a much healthier 156 homes. Our fabled waterfront homes and condominiums were not immune to the downturn, plummeting from 61 sales in 2005 to a mere 21 in 2008. They came roaring back to 64 sales in 2012.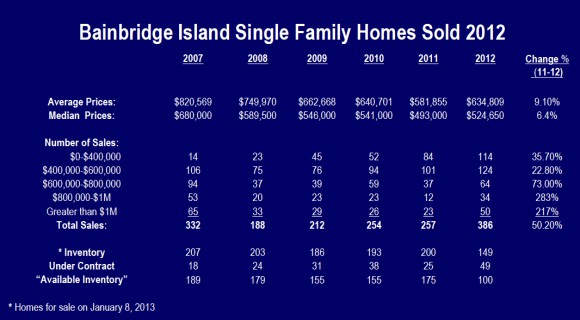 Where Are Prices?
Last year we also saw prices level off and move up after five years of steady erosion. The overall single family median market prices are still off 23% from their 2007 peak, and the average/median prices mirror to those from April 2005 (when the average price was $635,153 and the median was $540,000). But after five years of a declining market, this is a welcome change.
Neighboring Markets
When we compare ourselves to our neighbor markets to the east and west, we found Bainbridge fared well. Seattle had a 15% rise in transactions with average prices up about 5% and median up almost 7%. In North Kitsap, the transaction count reflected a healthy 27% increase from 2011, but their average prices were down slightly (-2.1%) and median prices remained flat.
Condo Connection
Our condominium market experienced mixed results. The number of sales went up 19%, but the average prices were essentially flat and the median price actually declined. If you look at the past two years, only 6.8% of the sales were priced over $500,000. Looking specifically at properties priced above $600,000, the number drops to four sales in two years (2.7% of overall sales). There are currently two condominiums under contract over $500,000. So affordable condominiums have experienced brisk sales but it continues to be a tough market for condominiums over $500,000.
Promise of Land
Land sales included an encouraging 32 closings, up 60% from 2011 and up a whopping 300% from 2009's measly 11 sales. As with condominiums, the bulk of the sales (28 of the 32) were for properties below $400,000. Indeed, the average sale was $216,672 and median $147,500. With the healthier land sales, we are also seeing more new construction, both pre-sales and even a few spec homes. Spec homes are still challenging with lending hurdles and cost-to-build/market value ratios.
At the Crux of the Matter
So what trends can we expect for 2013? Right now, our largest challenge is inventory. With a healthy job market in Seattle and overall positive economic news, we are seeing a number of buyers. However, the lack of choices can be frustrating for these eager buyers. On January 15th, there were fewer than 100 homes actively for sale (those listed but not under contract). When the numbers drop this low, the stress is exacerbated by a larger percentage of homes that have been on the market for a while and for one reason or another have been passed over by the current crop of buyers.
In truth, there are many homeowners sitting on the sidelines but reluctant to put their homes on the market for a number of reasons. First, they have looked at the existing inventory and do not see anything they wish to buy should they sell their home. Another hurdle is prices. Sellers are aware they probably will not see 2007 prices anytime soon, but would like to see them inch a little closer! Another reason is the market decline, which has placed many sellers in "upside down" mortgage situations. So if those folks don't have to sell right away, they're holding onto their homes until prices rise again and they can protect themselves from losses.
Looking Forward to 2013
The next six months will prove to be very interesting. More fiscal cliffs, European travails and other external influences can have an effect on micro-markets like ours. The push/ pull stress of a strong buyer pool wanting more inventory to choose from will continue to shape the market. In tricky times like these, buyers and sellers are wise to work with experienced agents who can offer clarity amid the confusion. All in all, there are more positive things happening in the Bainbridge Island real estate market than we have seen for quite a long time. We at Windermere are excited and optimistic about 2013.