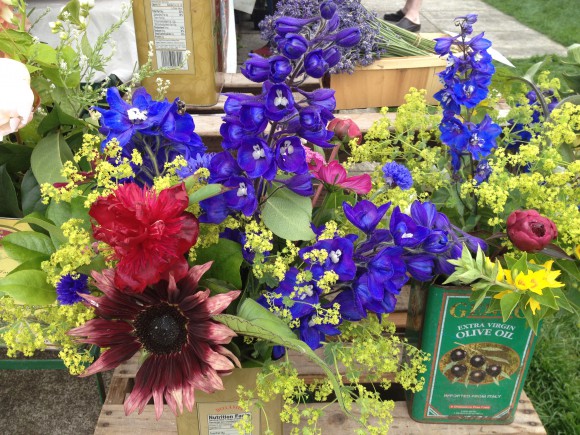 Opening Day Tomorrow
Tomorrow, April 11th, is the opening day of the Bainbridge Island Farmer's Market.  It is located at the Town Square City Hall Park and will run from 9am to 1pm.
Annual Cheese Toss
Opening Day festivities will include the Annual Cheese Toss with Mayor Anne Blair and City Manager Dough Schultze.  Farmer Vendor stands will have the freshest local veggies, flowers, cheeses, honey, pastries, and more.
Pizza, BBQ, or Potstickers?
Come hungry and enjoy a wide selection of pastries and coffee or stop by later and stay for lunch and try one of my favorite food vendors like, BIBBQ, 206 Pie, or Clara's Wok.
CSA
Tomorrow is also an excellent time to check out local farms offers a CSA (Community Sponsored Agriculture) program – where you buy a share in a farm.   I know I can't wait for ours to start in June with Persephone Farm.
There will also be live music, and tomorrow grab one of the new Farmer's Market T-Shirts for sale as a fundraiser for the Market. Fingers crossed for sun. See you there!