Just Closed | 10286 NE Garibaldi Loop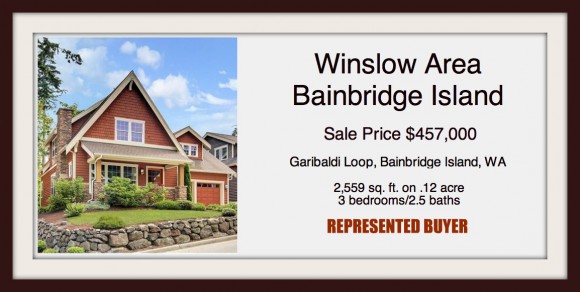 Investors Entering the Market
I just helped a smart buyer client close on this great home near the ferry on Bainbridge Island.  This home was purchased as a rental investment property.  The location near the ferry, popular Craftsman style, and newness of the home will make it a popular, easy to lease home.
A Shift
Typically many of my clients are families new to the island, but increasingly more of my buyers are local investors or second home buyers.  With the current market of deceasing home prices, record low mortgage rates, and a segment of the population unable to purchase homes due to unemployment or damaged credit from a recent foreclosure or short sale – purchasing homes as rentals is increasing in popularity.
Investors Will Outnumber Traditional Buyers
In the next two years, real estate investors are expected to outnumber traditional homebuyers in their local markets by three to one, and 56.5 percent plan use their investments as rental properties, according to a national survey conducted by Move, Inc. On Bainbridge Island, agents are seeing that survey prediction come true.  Right now 80% of my buyers are either investors or second home buyers – a huge shift for my business.
The Right Combination = Action
With 30 year conventional mortgage interest rates hovering around 4%, investment property interest rates are below 5% at 4.75% today. And, in addition, many of the investor buyers are buying with cash, seeing the value in that  large pool of renters out there right now  – even when the low interest rates are not an added incentive for them to buy. With the current economic and housing climate, putting a rental or two in your investment portfolio makes a lot of financial sense.